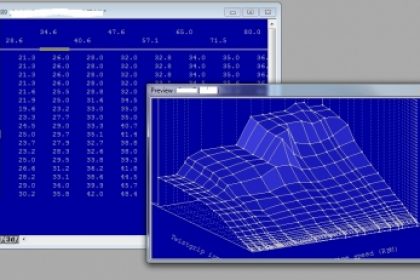 Ducati ECU Mapping what ECU remapping and modification is all about by Moto Rapido.
Ducati ECU Mapping: There seems to be a bit of confusion about what ECU remapping and modification is all about.. So we've written a little bit about it.
Systems we work with:
Magneti Marelli – Ducati OEM system and racing ECU
Mistubishi – As used on many later model Ducati motorcycles (1199 / 899 / MTS1200 etc)
MoTeC – MoTeC datalogging, ECU and Dash systems – as used on BSB Superbike and Supersport machines.
Through our workshop, we now have the ability to read and reprogramme the ECU software on the majority of modern Ducati motorcycles:
Why? well we have noticed a number of Ducati's that are fitted with aftermarket exhaust systems but still have the original ECU (hardly surprising as they are over £900 for most of the Ducati performance ECU's).
When fitting either a full race system or changing the end exhaust cans the fuel map needs to be adjusted to suit in order to prevent damage to the motor from lean running and to ensure your bike performs correctly (the point of upgrading the exhaust!), as this is not adjustable on the Ducati/Marelli ECU you have to replace the whole unit. But now we can just replace the software.
So we can now 'remap' the standard ECU with all the parameters (not just fuel maps) of the Ducati performance ECU therefore upgrading to the full Ducati Performance version: This is ideal if you have an Akrapovic or Remus system for example.
Custom 'remapping'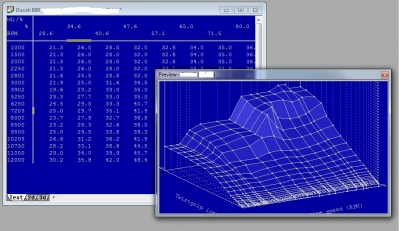 This term is often used but simply means we read the ECU software from your bike, then with the software we have and some years of experience, we can identify the maps in the program file and adjust then to make the changes needed.  There are many maps and parameters in a modern ECU, they control all the options for fuel, ignition, fly by wire, engine brake control, traction control.
Typical RBW map
Full custom work is available for special projects, but here are the typical changes we do:
Fuel tables
To correct fuelling inaccuracies that you have with a generic 'one map for all bikes' ECU as fitted to the standard bike. We measure each cylinder and injector and correct the fuelling on the dyno.
Modern bikes like the 1199 , 899 and Multistrada have fuel tables per cylinder, per gear and per riding mode! So many complex tables.
Modern bikes also manage to comply with the strict emission rules by running a little lean at constant throttle, because this isn't ideal for the motor or rider comfort, the fuelling is measured with a lambda sensor and the ECU reacts to fuelling changes.. unfortunately this can result in a surging or unsteady feeling at low rpm and low throttle positions.. where small automated changes are felt by the rider.  We often disable the lambda control and remap the fuelling based on engine speed and throttle position, then add a trim per gear and trim based on wheel speed.. it may not pass emission regulations but is far more pleasant to ride.
Custom mapping is the only perfect solution for getting the fuelling correct for your bike/motor spec/exhaust.
Spark advance – Ignition tables
Much the same as fuelling changes, these are the key two components to making the motor run perfectly.  Often road bike have ignition tables designed for meeting emissions guidelines and have trim tables for each gear. This is not ideal for perfect running, but makes the bike pass the regs. We often simplify and re-trim these purely for smooth running and performance.
Ride-By-wire
This gets a little complex,  "RBW" or Ride by wire maps are the translation electronically which the ECU uses for the control of the throttle bodies based on the rider twistgrip input. Typically these maps are based on Engine Speed vs. Twistgrip input then per riding mode and per gear (this is how Ducati specify the power output in Riding modes like 'Urban' the twistgrip is still moved over its whole range by the throttle bodies may only open 75%.) These can be modified per gear and per riding mode to suite the rider. Some riders like a linear throttle, others prefer a slow action for the first 30% then fully open the throttle quickly (popular for wet race conditions) this can also be used to cap the power output in lower gears.
EBC (Engine Brake Control)
in models with RBW control the throttle bodies can be set to not fully close when the rider closes the twistgrip. This system, along with ignition and fuelling strategies, is used to prevent the large reverse torque sensation (engine braking) that causes the rear wheel to slow faster than the front and slide on corner entry. By trimming these levels based on engine speed and gear we can control how much the rear slides. Usually done at the track, this trimming can be a big part of comfortable corner entry and lap time.
Exhaust valve motors: 
Motorcycles retaining the stock ECU means the bike is also continually trying to adjust the exhaust control valve which is removed when fitting the full race systems so often displays an engine fault. This is a simple fix where we can re-programme the ECU not to attempt to control the exhaust valve motor – therefor no more warning lights on the dashboard.
Limits and Functions:
There are many features in the modern Ducati's that can be modified. From dash displays to switches for example:
Side stand switch (for track use)
Exhaust valve motor
Lambda controls
Clutch switches (track use)
Max RPM limits per gear
Shift light limits
Dash display

Ducati Engine brake control map
What some of our customers have said:
Multistrada 1200 2011 model
Stock exhaust  Mitsubishi ECU, Fuelling and ignition, removed emission trim and remade base fuel tables.
"I loved my Multistrada but I hated the way it surged like I was moving the throttle whilst I was riding along at about 40mph. After you guys worked on the ECU it feels like a different bike.  now its constantly smooth and pulls from low rpm in all gears. It starts and idles perfectly. I love it."
848 Evo Corse (2012)
Custom map with Full system –Marelli 5AM ECU – we gained 8 hp with ignition and fuelling custom set up
"Thanks for the upgrade on my EVO, I fitted the Akrapovic race system but it annoyed me that I had an engine light on all the time. I was happy with how it went before but after its amazing! It revs harder and pulls faster than before without doubt! No more warning lights, everything runs perfectly. Defiantly faster!! Thanks."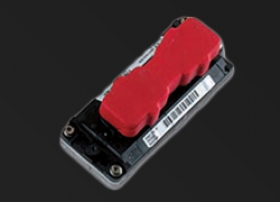 If you would like your ECU upgraded to the Ducati Performance version or even back to original just call to get it booked in, it takes about 2 hours including the set up afterwards and costs a fraction of buying the one – we charge just £249 + vat for this service. You are welcome to send the ECU you have by post but please call first, we prefer to have the whole bike so we can reset the throttle position sensor and trims once fitted.
Custom ECU programming : If you have a special requirement from your ECU – custom fuel mapping, RPM limit, soft limiter change, Ignition timing change, Traction control enabling, lambda sensor deactivating etc. we can custom write the parameters onto your current ECU. Just call for details of what can be done.
Call or email with any questions or queries: 01962 877998 or CLICK HERE TO CONTACT WILF