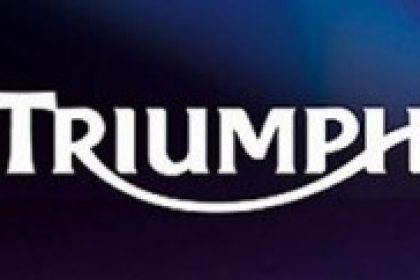 The Triumph Trophy SE
Triumph has launched its third salvo directly at BMW. And it's a good one. They fired the first with the 800 Tigers, the second with the 1200 Explorer, and this third with the 2013 Trophy SE.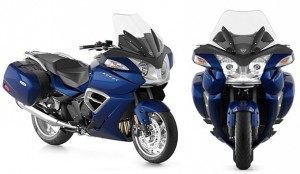 In the case of the Trophy SE, Triumph clearly targeted the R 1200 RT. After spending time with the Trophy, I believe Triumph has not only the RT covered, but has clearly wounded the more expensive K1600 series as well. By being much better equipped than the RT and much cheaper than the K1600's while being comparably equipped, Triumph has carved out a luxury sport-touring niche between the two that no one even knew existed (I feel uniquely qualified to say that after having previously spent extensive time riding the K1600 GTL test bike for MMM).
Our 2013 Trophy SE test bike from Belle Plaine Motorsports came very well equipped. The standard features list is impressively extensive. Electronically adjustable windshield, AM/FM satellite radio with blue tooth / aux input and weather band, mag lock powered storage console unit with usb-input, ride by wire throttle, traction control, ABS, linked brakes, 31-liter detachable saddlebags, cruise control, tire-pressure monitors, electrically adjustable windscreen, adjustable seat height, electrically adjustable headlights and shaft final drive. Whew. In addition, our test bike came with a powered 55 –liter top trunk and 2 position grip heaters. Like I said, it was well equipped! It's icing on the cake that it all works so smashingly.
So many things work so well on this bike that it's difficult to choose one to begin with, so lets start with what unequivocally makes this bike a Triumph – the 1215cc triple. This engine is the same one used in the Explorer, and it's a gem!
If you have never heard a Triumph triple, you need to. It has character in spades. In Trophy guise, it has a deep V8 muscle car like sound mixed in with a bit of turbine whistle and dashed with a bit of diesel clatter over the top. It sounds distinctive and wonderful, no matter the rpm. The power characteristics mirror the sound. It has fabulous diesel like grunt off the bottom, pulls hard through the midrange like a V8 and spins freely to redline in turbine like fashion. The torque makes gear selection superfluous. This engine doesn't wow you as much as BMW's inline six, but it is strong, willing and full of character in its own right.
The ride by wire technology that Triumph attaches to that locomotive engine is second to none. Unlike the fluffy, laggy feeling the BMW E-gas has to it, Triumph's version has buttery smooth tip-in, no surging or hunting at constant throttle and responds perfectly to your commands. Combine this with the fabulous engine and you have one of the best packages going. In all aspects and situations, this EFI is the model of good behavior and the standard that all others should be measured by. It also has amazing fuel mileage. I averaged from 47 – 58 mpg tanks during my travels. Combine that with the 6.9-gallon tank and you'd better make sure you visit the bathroom before you leave!
It's a good thing that the Trophy gets such great mileage, because it's amazingly competent and comfortable. It's so easy to cover miles on! The wind management and protection is the best I've ever had. Crank the windshield all the way up and you have a serene protective cockpit. Crank it all the way down and you have good airflow at helmet and shoulder level. Drop it about 3 inches below your line of sight and you have sport touring nirvana! The ergonomics and seat are excellent and I loved the mirrors; positioned below your arms and offering an excellent vibration free view of your six.
Complementing the engine and wind management is excellent handling. Triumph is known for good handling chassis and this is another for their Trophy case. Turn in is light, communicative and trustworthy, and its bullet train stable at high speed. Helping with the handling is a top-notch electronic WP suspension (TES). Smooth and controlled at all times, it makes riding the Trophy a truly enjoyable affair. The TES has three settings you can use on the fly, "Comfort", "Normal" and "Sport". Comfort is a well-controlled couch. Sport is firmer in that you feel the bumps, but they are rounded off, and normal is a mix of the two. They all work great and you'll have fun playing with them in different situations. The TES also allows custom electronic preload, "Solo", "Solo with Luggage" and "Two-Up". No more spinning shock collars or twisting pre load adjusters, thank you.
During one long day to northern Minnesota and back, I had ample time to play with and appreciate the electronic gadgets and luggage the Trophy has. I am happy to say that after some acclimation, I was able to easily use and enjoy everything from the satellite radio to the electronic cruise control to the numerous dash displays. I won't get into the particulars, but I will say that having satellite radio and cruise is a luxury I could live with! The weather band was also excellent, as it would cut in with weather related alerts in my area. I spent an afternoon returning from northern Minnesota, listening to sat radio and dodging big thunderstorms. I found some interesting roads as a result and had a lot of fun!
Packing and using the luggage was simple. It's high quality, capacious, easily removable and has a unique mounting system Triumph claims aids handling. It was a pleasure having the accessory top trunk with the extra charging port. It is absolutely worthy of a purchase with your Trophy.
I've ridden many different bikes in the touring and sport-touring class in my time with MMM. I can truly say that this bike has the best combination of value, content and execution of them all. It is an excellent high quality piece of hardware from one of the most storied marques in motorcycle history. I regretted having to return it and may park one in my garage permanently in the future.
In the modern touring bike field, there are massive $28,000 luxury barges, there are relatively svelte, sparsely outfitted $14,000 sport-tourers, and there are bikes that fall into a middle category – those that combine a long list of rider amenities with a highly responsive chassis design.
The 2013 Triumph Trophy SE (MSRP: $18,999) is the latter of the three. To be sure, from the very beginning, it was a sportbike designed to cover miles comfortably. After 22 years, the Trophy returns this model year with all of its past attributes refined, plus a few updates.
Powered by a responsive 1215cc three-cylinder engine producing 132hp @ 8,900 rpm and 89 lb.-ft. @ 6,450 rpm, the 2013 Trophy SE also features many of the accouterments a long-distance rider may desire, including shaft drive, hard saddlebags and a cavernous optional top case, an electronically adjustable windscreen, three-stage electronically adjustable suspension, two-step heated grips, operator and passenger outlets for heated gear, cruise control, linked ABS, switchable traction control, a tire pressure monitoring system (TPMS), Sirius-equipped audio system with Bluetooth and iPhone/iPod technology, and a full array of data accessible through the thumb-operated rider information system.
Technology
The legendary triple's grunt of a twin and smoothness of a four translates through fly-by-wire technology, which allows that aforementioned rider information package to far exceed Honda's offering on the Goldwing I rode last year.
In fact, the data bank is one of the key features of the Trophy SE, showing not only dual analogue gauges, fuel level, temperature, trip computers and gear position indication, but also range to empty indication, air temperature, frost warning, accessory heated seats/grips status display, cruise control and a service indicator. The really trick feature, however, is the ability to easily scroll through the menu options to manage the traction control and make suspension adjustments, choosing between Solo, Solo With Luggage, or Two-Up settings for preload and Sport, Normal and Comfort settings for damping.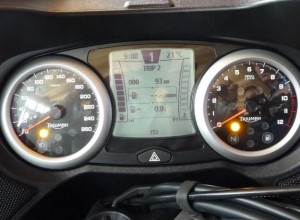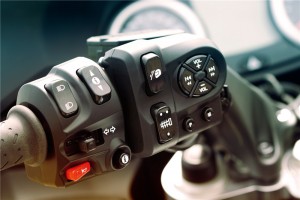 Ergonomics
The Trophy SE offered my 5'9" frame a standard upright seating position, elbows slightly bent in reaching to the bars, legs in a natural position, and posterior tucked comfortably in a generously sculpted, 31.1-inch-high saddle that didn't prove to cause any pressure points during a 200-mile jaunt.
Adjustable levers and foot controls were standard fair, with reach and pull of the levers proving easy and plenty of foot room despite the 1.2L lump pulsing between your legs. Speaking of foot position – a rainy commute showed Triumph
intelligently designed foot placement to keep your pants and feet dry. Go figure, the UK isn't exactly known for its warm and dry conditions.
But it's the windshield that proves to be the crown jewel of the Trophy's thoughtfully planned rider space. Not only does it electronically adjust six inches to suit your pleasure, but it also actually remembers its last position. So, when you start the bike, you don't have to waste time readjusting it.
Performance
Starting the Trophy SE delivers a welcome message and light show from the dash and a boom from the three-into-one side mounted stainless steel silencer. At idle the bike sounds robust but docile enough for even the most conservative of neighborhoods. Just off idle and the sound becomes more like that of a muscle car than a Gentleman's Tourer.
Slipping into gear delivered a solid click and the bike proved easy to use at urban speeds, with the weight diminishing and the engine and transmission working in concert to deliver a smooth, almost maxi scooter-like ride. Keep it in second gear while downtown or during rush hour congestion and you may forget the bike has a clutch.
At 72 mph in sixth gear the engine turns at a whisper quiet 3,800 rpm. Twist your wrist and the big lump moves away with a purpose; downshift one notch before twisting and the engine jumps up to 4,400 rpm. Now you're in the sweet spot and the entire 662-lb. package leaps to attention and rockets you down the road with turbine-like force and the bark of a beautiful Triple Symphony. Forget about torque pull from the shaft drive, this baby feels drag strip precise as triple digits show up in two blinks of an eye.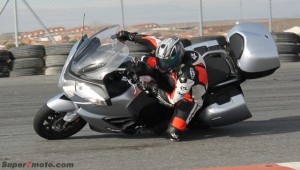 Bringing the big Trophy SE down from speed was drama free, even in panic situations, with the twin 320mm floating discs bitten by Nissin four-piston calipers in front and single 282mm disc with twin-piston caliper in the rear. There wasn't a lot of diving to upset chassis performance and the ABS did not noticeably impede my inputs but in fact stoked my trustworthiness in the bike.
Don't be afraid to dive into the corners, either. The Trophy's sportbike-derived design, electronically adjustable WP suspension, and 120/70 ZR17 front and 190/55 ZR17 rear tires keep the bike line-on through the curves while its aero package alludes to its excellent road manners; even on a day with 15mph crosswinds and the screen at full attention, there was very little to no buffeting on the bike while sweeping around south central Minnesota corn and soybean fields. Even Triumph's "dynamic luggage system" was designed for speed – allowing a small amount of independent movement from wind buffeting, which actually increases stability.
After having switched between multiple electronic suspension combinations, I can attest that the system works – firming up the ride for solo maneuvers, providing an appropriate amount of feedback under load, and offering plushness for your significant other enjoying the experience on the back.
What didn't I like on Trophy SE? The most glaring of problems I encountered during my time with the bike was the constant need to keep tabs on the information shared via the digital dash. In fact, I didn't need to pay attention to any of that and so the issue really is a personal one.
Ultimately, riding this bike constantly reminded me how the Brits appear to have the Germans in their crosshairs. If this is Triumph's answer to BMW's ever-popular R 1200 RT ($17,350) it could wing to wing … er, wheel to wheel … take on the Roundel's longtime superiority on the Interstate, Autobahn, Autostrada or Dual Carriage Way.