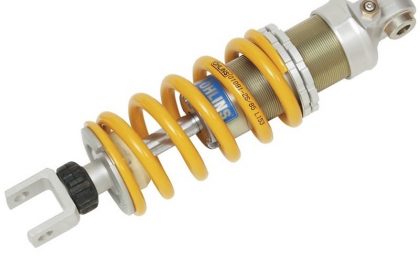 Ohlins Ducati Scrambler Rear Shock,
A well proven monotube design, the Öhlins S46 shock absorber sets the standard for performance, quality and endurance.
The S46 Street Performance Line is based on our popular STX46 DR1 shock absorber and developed for naked sports bikes and street performance bikes. It features a large 46mm main piston and an internal gas reservoir within the main body of the shock.
With adjustable damping you can change the behaviour of the shock to suit your taste and even fit a hydraulic spring pre loader to change the stance of the bike. This is the perfect choice for the naked sports bike, or as well call it: Street Performance Line.
Features
Monotube shock absorber
Öhlins well proven design
Adjustable rebound damping and compression
A range of spring rates available
Maintenance possibilities
Optional hydraulic spring pre loader
Available to a large range of bike models
CLICK BELOW TO VIEW PARTS