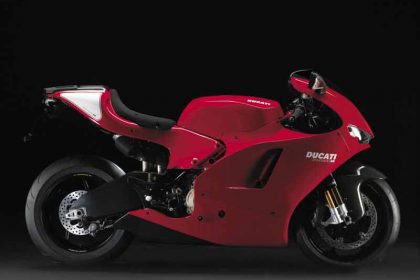 Ducati Desmosedici D16RR Review,
There's no other way to describe the Ducati Desmosedici RR than as a MotoGP bike with lights; it really is that close to the real thing. The 200bhp motorcycle is a replica of Ducati's Desmosedici GP6 MotoGP machine, which Loris Capirossi and Sete Gibernau rode in the 2006 World Championship and features the same chassis layout, bodywork and 'long bang' 989cc V4 engine architecture. There has never been a road motorcycle like the Ducati Desmosedici RR and it's so stiff, fast and focussed that it makes R1s seem soft and cuddly by comparison.

Engine:
Although devilishly powerful the Ducati Desmosedici's V4 motor is far more docile and user-friendly than you'd imagine. It makes power smoothly from nothing all the way to 13,800rpm, although as the motor spins past 10,000rpm the power starts to get very intense. There's bucketfuls of grunt on tap too, so much so that you can go a gear higher though corners and it'll still pull hard. Like one of Ducati's V-twin engines, the Desmosedici is deceptively fast, not like a screaming in-line-four superbike, which feels twice as fast as it's really going.

Ride and Handling:
Unless you're going to push the Ducati Desmosedici RR as hard as MotoGP rider can, you're never going to get the best out of it. Such is the stiffness of the chassis that there's very little feel from the Desmosedici RR even at fast racetrack speeds, although you get more feel as you start to push harder. On the road the Desmosedici is going to be a waste. Where a 1098 or R1 will flatter you with its user-friendly nature the Ducati is quick to tell you that you're not good enough to ride it. It is the best handling road motorcycle ever built; you just need to be Casey Stoner to appreciate it.
The Ducati Desmosedici RR is built like a MotoGP bike so it's dripping with exotic parts. The Desmodromic motor is packed with titanium, specially coated alloys and magnesium. The fairing, mudguard, heel guards, fairing bracket are all from carbon fibre and the exhaust heat shield is from a carbon/ceramic composite. The LCD display is the same as the GP7 MotoGP motorcycle and like the 1098 it comes with a datalogging facility. Marchesini wheels are forged magnesium and the rear is shod with a special 16-inch Bridgestone BT-01R tyre. The Brembo front brake set-up is the same as the wet set-up Ducati use in MotoGP and the front brake span adjuster is on the left handlebar for easy reach. The list goes on…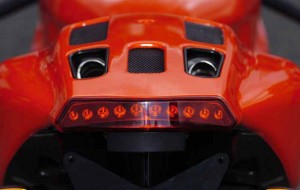 Like the MotoGP machine the Ducati Desmosedici RR is built to an exquisite level of quality; there's simply nothing you can buy that comes close. Unlike the race bike the Desmosedici RR actually comes with a three-year warrantee and three-years free servicing, which is an astonishing feat from Ducati.
£40,000 is a lot of money for a motorcycle but the Ducati Desmosedici RR more than justifies its price tag; Ducati could sell it for a lot more and it would still be worth it. If you could imagine how much a car would cost that was this close to a racing machine? Probably millions, if it could ever happen, which it never would or could. Even if the Desmosedici didn't run, the way it's built alone would justify its price tag; the fact that it's faster and better handling than any production sports bike ever built makes it the deal of the century. Find a Ducati Desmosedici RR for sale.
Insurance group: 17 of 17
Source: Motorcyclenews.com