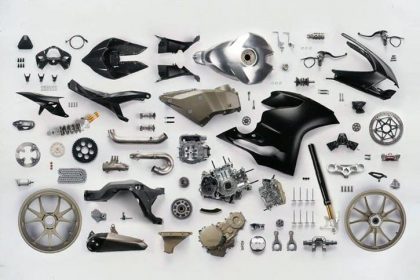 First Glimpse of the Ducati 1199 Panigale R Superleggera 
An ultra-exclusive limited edition model of the Panigale R superbike, our sources spoke of jaw-dropping figures: 220hp at the crank, and 40 lbs shed from what was already Ducati's lightest superbike ever.
With only 500 models to be produced, this halo bike from Bologna will be available only to the upper-echelon of Ducati customers, with the Italian brand setting up an online ordering form for the chosen Ducatisti.
With copious amounts of carbon fiber, titanium, and magnesium used in its construction, we reckon the Superleggera has been a hit with everyone who has seen it, which is number that is rapidly growing.
One such lucky person was Jim Gianatsis of FastDates Calendar fame, who thankfully posted up his invite for the Ducati 1199 Panigale R Superleggera on his company's Facebook page.
Showing a layout of the special parts that Ducati has used to make the Superleggera live up to its "superlight" name, we see that Ducati will use a magnesium piece for the frame/headstock, while a self-supporting carbon fiber seat/subframe will be used for the rear. Unsurprisingly magnesium engine pieces abound, and as we expected Ducati has chosen Marchesini forged magnesium wheels.
In equal application is the drool-worthy carbon fiber, which is naturally used for all the bodywork pieces — our favorite piece has to be what looks like a two-tone carbon/titanium exhaust can though.Choice. Other pieces include a titanium spring on the rear shock, an aluminum fuel tank, and other premium components from the likes of Öhlins and Brembo.
Using only the Superleggera's internal name of "Project 1201″ Gianatsis's invite goes on to mention a privatewebsite where the machine can be viewed, something we already knew existed. Going there now shows no login screen, and instead simply says "From October 10th" below a Ducati logo and the "Project 1201″ designator.
The date would seem to suggest that more could be coming this Thursday, which affirms what our spies have been saying about Ducati plan's to leak photos of the Superleggera sometime this week. It would seem that we don't have to wait long until more details drop about Ducati's Superleggera. More as we get it.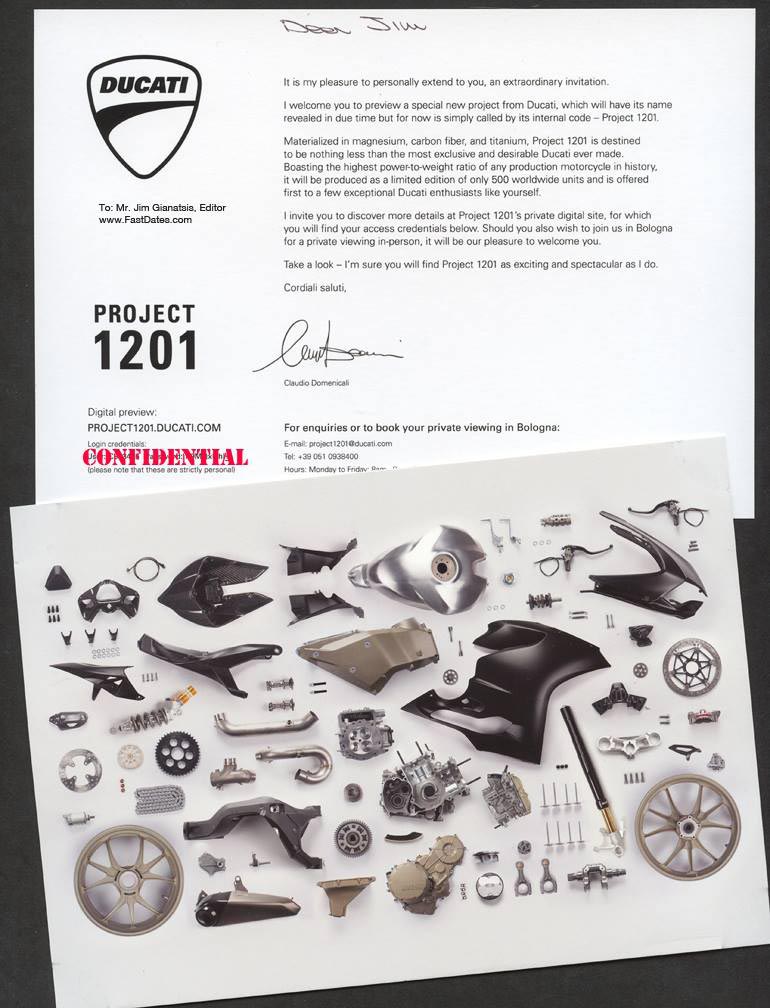 Source: FastDates (Facebook)
10/10/2013 @ 12:10 AM, BY JENSEN BEELER