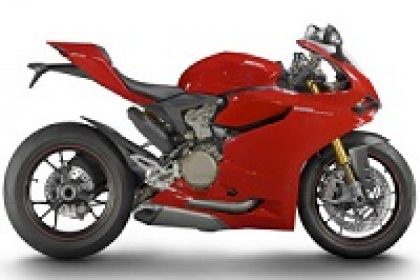 Coming Soon: Ducati 1199 Panigale R Superleggera,
Ducati has gone to great lengths so that you won't know this, but in about a month's time, the Bologna Brand will debut perhaps the most ostentatious machine ever to come from the Borgo Panigale factory, the Ducati 1199 Panigale R Superleggera. An ultra-exclusive version of the Ducati 1199 Panigale R, the Superleggera edition is exactly what its Italian name suggests, a super-light version of the Panigale R.
With the Panigale R already the lightest sport bike to ever come from Ducati, the Panigale R Superleggera goes even further, employing titanium, carbon fiber, and magnesium throughout the machine to drop its curb weight by an additional 40 lbs. Ducati isn't stopping there though.
Heavily reworking the 1,199cc Superquadro engine, the engineers at Bologna have bumped the bike's peak horsepower figure, somehow finding a way to shoehorn 220hp into the Ducati 1199 Panigale R Superleggera.
It's ok if you need to take a minute to readjust yourself in your chair before reading further — we'll wait.
Other features include top of the line Öhlins suspension pieces and Brembo brakes, but the real treat is the Ducati 1199 Panigale R Superleggera's next-generation electronics system. A direct descendent of the electronics used by Ducati Corse in WSBK and MotoGP, the Superleggera's electronics package  is highlighted with Ducati's first wheelie control system for the street and is a direct response to Aprilia's venerable APRC package.
At over double the price of Ducati 1199 Panigale R, the Superleggera should retail for around $65,000 when the 100 or so models that are allocated for the United States finally actually arrive.
Don't rush out to your Ducati dealer just yet to place your deposit though, purchasing a Ducati 1199 Panigale R Superleggera is an invite-only affair for the 500 models being built — as it would seem that Bologna is taking a cue from show business's tagline of "don't call us, we'll call you."
Similar to the Ducati Desmosedici RR launch, only pre-selected Ducatisti will be given the opportunity to own one of the  Panigale R Superleggera. The chosen few will receive a special access code from their local dealers, which will then allow them to order the Superleggera from Ducati.
With Ducati already contacting certain selected buyers, we imagine further details (hopefully some images) about the Ducati 1199 Panigale R Superleggera will break ahead of the machine's EICMA debut. Stay tuned loyal Ducatisti.
Source: asphaltandrubber.com