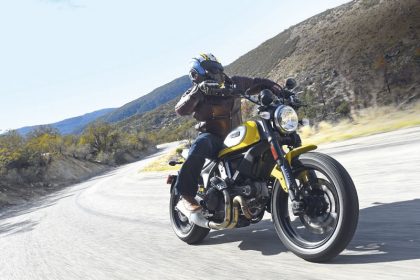 Ducati Scrambler Review
"Stylish, easy to ride, desirable and affordable"
Overall Rating 4 out of 5
You don't have to be a fashionable hipster to enjoy the new Ducati Scrambler, its qualities shine through without the clever marketing. It's easy to ride, small and light, has a lovely useable air-cooled V-twin with lots of low to mid-range power. There's some lovely attention to detail, it's stylish and, at under £7000, an affordable Ducati. Experienced hands may want a little more power and noise, but everyone else will love it.
Ride Quality & Brakes 4 out of 5
Despite the odd wheel sizes (18 inch front and 17 rear) and off road-looking Pirelli rubber, the Scrambler can hold its head high and punch well above its weight in handling terms. It's relatively light and nimble and the wide, retro bars enable you to throw it around with ease.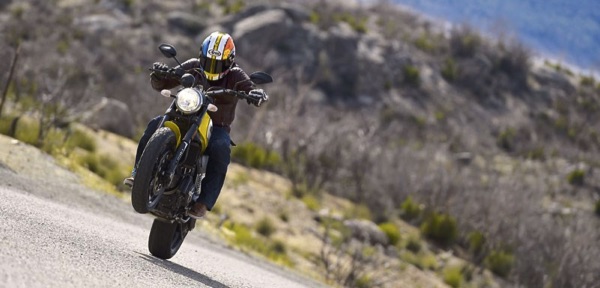 Engine 4 out of 5
There's an all-new 803cc, air-cooled, motor which is based on the old 796 Monster unit. The bore and stroke has remained the same but valve overlap, injectors, air-box and exhaust are all new. The result is 75bhp and 50.2ftlb of torque – slightly down on the old Monster but the spread of torque is greater. Power starts from low down, is linear, more than enough for this type of bike, but it does lack a little top end rush for experienced hands.
Build Quality & Reliability 4 out of 5
The level of finish is very high considering the price – there is some lovely attention to detail. Ducati have also worked in partnership with reliable quality brands like Brembo, Pirelli and Kayaba. Reliability shouldn't be a problem as the motor is based on the proven 796 Monster.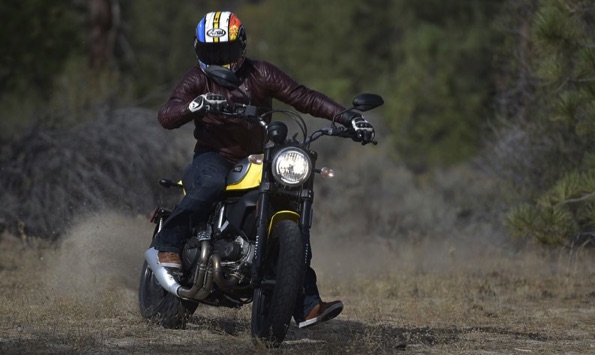 Insurance, running costs & value 5 out of 5
The base Icon comes in at under £7000 which is exceptional value for money for a desirable, quality, good looking Ducati. In many ways it doesn't feel like an entry level 'budget' Ducati, you'd estimate the price to be much higher.
Equipment 4 out of 5
ABS comes as standard but that's it in terms of rider aids. It's relatively basic but is designed to be at a competative price. The Kayaba suspension only has pre-load adjustment, and there's only a single brake disc up front, but it's controlled by a huge radial Brembo caliper.
Source: MCN 
Click on the link below to view our Ducati Scrambler parts