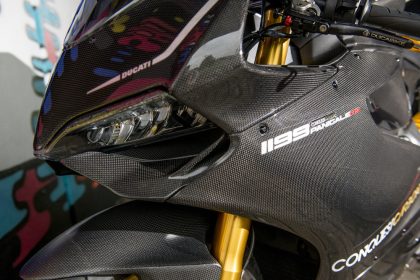 Ducati Panigale Performance Parts
Welcome to Conquest Carbon.
We are distributors for the finest products available on the market & we only supply the best in the industry for your Ducati Panigale. Click on the "SHOP" tap to view our parts.
CARBON FIBRE PARTS
We have the largest selection of Ducati Panigale carbon fibre parts than any other website. Our selection includes our own brand Conquest Carbon, Carbonvani, Fullsix Carbon, Ilmberger & Lieb Speed.
All carbon parts are made using state of the art pre-preg carbon fibre and auto clave manufacturing. Have a look at our carbon fibre fenders, carbon fibre huggers, carbon fibre fairings, carbon fibre fuel gas tanks, carbon fibre wheels, carbon fibre tail units & even Ducati Panigale 899/1199 carbon fibre mirrors & side stands.
We can supply all carbon fibre weaves to match OEM or if you prefer to be different then twill weave or extra large twill is available. We also provide gloss or satin/matte finish.
If you love the track then we can provide you with the best in the industry Ducati 899/1199 Panigale race carbon fibre fairings as used in BSB (British Superbikes) & WSB (World Superbikes)
CNC PARTS
Our CNC suppliers manufacture unique performance parts from aerospace alloy using only the highest grade machinery.
We are proud to be distributors for CNC Racing made in Italy CNC Racing are manufacturers for high performance parts used in BSB, WSB & MotoGP. CNC racing are the manufactures for the famous Ducati 899 1199 1299 RPS rearsets, as well as rearsets they also produce many components such as frame plugs, clip-0n's, tail tidies, crash protection and much much more.
We are also proud distributors for Ducabike, Ducabike are manufacturers based in Italy who solely develop parts for Ducati. Ducabike are the producers for the famous Ducati Panigale 899 1199 1299 clear clutch cover, a unique item which allows you to visibly view the wet clutch spinning as with the traditional Ducati dry clutch.
We are also dealers for AEM, Lightech, Evotech, Rizoma & ASV Levers.
If you have any questions regarding our Ducati Panigale 899 1199 1299 carbon fibre & CNC accessories then please don't hesitate to contact us.
Safe riding CC