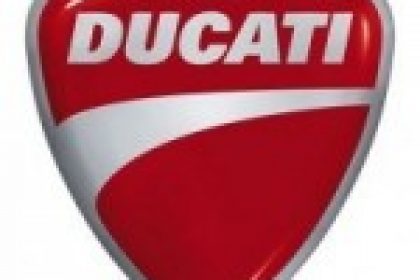 Ducati 848 EVO 2011 Review
Ducati's middleweight superbike gets a significant upgrade for 2011, further separating itself from the confines of established sportbike categories.
It's already 17 years since the first small-bore Ducati 4-valve superbike, the 748, broke cover – the same year as the iconic 916, in 1994. The 748 played a background second fiddle to the beloved 916 series until the 749 emerged in 2003. A close relation to the aesthetically challenged 999, the 749 continued to be a relatively low-cost entre into Ducati's superbike family and competed against the Japanese 600s in supersport competition.
Then MY2008 saw a paradigm shift for the sub-liter Ducati superbikes, with the new 848 getting 15 extra horses and a weight loss of nearly 50 lbs! However, its 101cc displacement bump (to 849cc) made it ineligible for supersport competition, leaving it adrift in a class of its own.
Perhaps that's a good thing. Instead of being considered an expensive alternative to the Japanese four-cylinders, the 848 ruled over them with not only more torque, of course, but also more horsepower. Our '08 test bike cranked out 116 ponies at the rear wheel, which is nearly on par with what a 999 or Honda RC51 could do a few years ago when liter-sized superbikes were the hot ticket.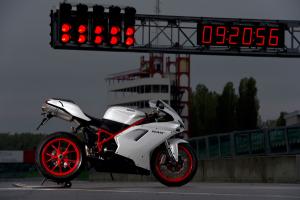 Well, Ducati has upped the ante again with the 848 EVO, bringing along extra horsepower, improved brakes and fitment of a standard steering damper – all for the same price as last year's 848s.
To demonstrate the EVO's newfound prowess, Ducati invited us to the historic Autodromo Enzo e Dino Ferrari in the town of Imola, Italy.
It's within the engine that most of the EVO's updates are found. The 848's powerplant remains structurally unchanged, but a multitude of revisions to improve performance creates what Ducati says is "the highest power-per-liter of any twin-cylinder engine in production."
At the intake side, the fuel-injection's throttle body size jumps from 56mm to 60mm and feeds fuel into optimized intake ports. New cams offer increased valve lift on both the intake and exhaust sides. A revised combustion chamber and new pistons bump the compression ratio from 12.1 to a high 13.2:1. The 90-degree V-Twin's rev ceiling has been lifted 500 revs to 11,300 rpm, and heat generated from the extra revs is dissipated by new ventilated timing belt covers.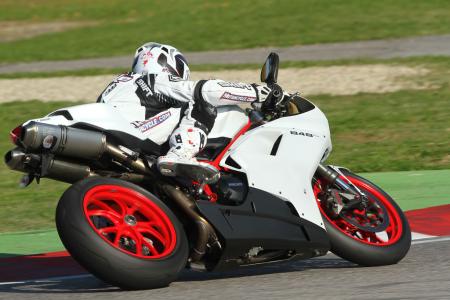 There's about 120 horses being spat out the rear wheel of the 848 EVO.
Ducati showed us a dyno graph comparing old and new engines, and the EVO's has an advantage starting at 8500 rpm, with a bigger jump after 9.5K when it romps to a 6-horse surplus. Crankshaft horsepower is alleged to be 140 at 10,500 rpm. We'll guess rear-wheel ponies will nudge past the 120-hp mark.
Positive impressions begin at start-up, as the 848's exhaust note sounds deliciously rambunctious. They're actually a little too boisterous for the EPA – USA bikes will be slightly quieter thanks to mufflers almost 2 inches longer.
Heading out onto the Imola racetrack, the EVO feels almost identical to the 848. Its wet clutch isn't grabby like some of Ducati's dry clutch packs, and low-to-midrange power easily dwarfs any sub-liter four-cylinder. Claimed dry weight remains constant at 370 lbs, so its fully fueled curb weight will come in at about 425 lbs.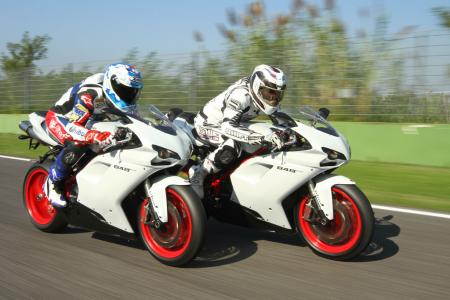 World Superbike title contender Carlos Checa tries to keep up with Duke.
The EVO responds with enthusiasm when dialing on the power with an open track ahead, revving with an urgency above 9000 rpm the old bike lacked. It pulls so well up top that a rider needs to be conscious of the shift lights to engage the next gear before the rev limiter kicks in. With shifts timed accurately, the EVO is fully capable of cutting fast laps – quicker on many tracks than the 600s.
GP Speed
The Autodromo Enzo e Dino Ferrari nestled within the town of Imola has a rich and storied legacy, and it holds many secrets of speed until a rider can milk his best out of the Italian circuito. I learned that the blind left-hander Piratella is much faster than expected, and that the first part of the downhill Aqua Minerale requires only a short stab at the brakes.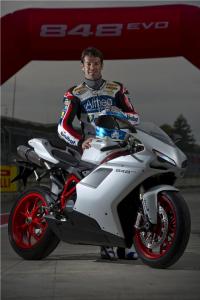 I had one other eye-opening speed lesson as I headed up Imola's front straight for the last time of the day. With the 848 rubbing its redline in fifth gear, I grabbed a handful of brakes as the Tamburello chicane loomed closer. Then, with a shock that took my breath away, a rider flashed past on my left with at least 30 mph extra. "Oh, god," I thought, "Someone's lost his brakes and is going to pile in a huge way into the same area in which F1 legend Ayrton Senna lost his life."
Then, before I could inhale, I recognized the seemingly doomed rider was none other than World Superbike race winner Carlos Checa on an 1198 – it wasn't the first time he'd passed me. Because Checa's one of the world's finest riders, I knew he could handle Taburello easy enough. I relaxed momentarily.
But at the same instant I was again floored by what I was seeing. Not only was the amiable Spaniard going faster and deeper into Tamburello than I'd imagined possible, he also decided to do it with flair right in front of my disbelieving eyes. My jaw dropped as Checa pitched it sideways on the brakes, leaving a black stripe of rubber from his rear tire for about 50 yards before gathering it up in time for the fast-approaching corner.
I'm not worthy. –KD
But engine tuning, like life, is a compromise. We're stoked to have a more power at high revs, and response from the 60mm oval throttle bodies is rewardingly seamless, but the EVO seems to have lost a bit of midrange grunt compared to the Gen-1 848. Tellingly, the EVO's torque peak is at 9750 rpm, about 1200 revs higher than we measured on our previous test bike. Strident power only arrives once past 7000 rpm, giving the EVO a respectable 4300-rpm play zone.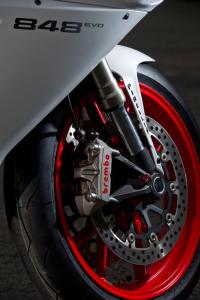 Other than the plentiful engine mods, the EVO's most significant upgrade revealed itself when barreling downhill with a full head of steam into the Rivazza twin left-handers, one of the most intense braking zones on the Imola circuit.
The 848's new Brembo monobloc brake calipers deliver a more solid feel than the previous two-piece calipers even though they're clamping on the same 320mm dual discs. Ducati claims 20% greater deceleration at the same lever pressure. Fluid continues to be delivered by a radial-pump master cylinder via coated, braided stainless-steel lines, delivering stellar feel. The old bike's brakes were easily better than average, and these new binders step up the game to excellent status.
Making the 848 even more track-worthy is the addition of a steering damper sourced from the 1198. The non-adjustable unit is cross-mounted atop the upper triple clamp, and it provides some assurance the EVO wouldn't get squirrelly even if its rider does.
Not that we had much complaint about the 848's handling without a damper. The EVO continues the platform's fine handling qualities, exhibiting a fairly light turn-in at low speeds, becoming more deliberate as speeds rise. It's a solid, predictable chassis with terrific mid-corner stability.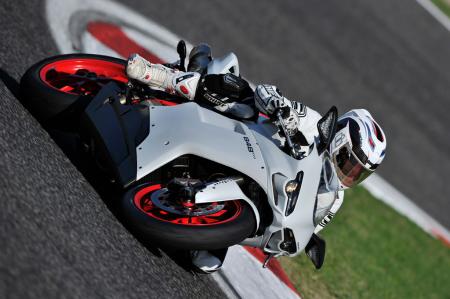 The 848 EVO loves being leaned over in the corners.
The final new bits on the EVO are the terrific Pirelli Supercorsa SP tires we've enjoyed as OE-fitment on some premium sportbikes. While the SPs are better suited for road use, we were spoiled with sticky race-compound Supercorsas (no SP, which are rated for higher speeds) developed in World Supersport competition. We ran out of nerve before they ran out of grip.
A few laps on Ducati's new 1198SP pointed to a couple of components that would also be beneficial on its little brother. The SP's new slipper clutch would be a nice addition for track work on the 848, as would the Ducati Quick Shifter that's now standard on the 1198 series. The 848's gearbox didn't always cooperate during clutchless upshifts.
Aside from new paint color options, the 848 is stylistically unchanged in its EVO guise. For many bikes, this would be a problem. For the 848, its status-quo stance keeps it among the belles of the ball, especially in the new Arctic White Silk seen in these photos, a tasty matte-white pearl with red frame and wheels. Bella!

Our time aboard the EVO at Imola reaffirmed the 848's sporting credentials, nicely upgraded for 2011 with tweaks that will help it get around a racetrack even quicker than before. It's an upper-echelon sporting tool that can dust off a Ducati 999 if need be – or nearly anything else on a medium-speed racetrack.
Perhaps it doesn't matter if the 848 is a bike without direct competition. It's a strong seller for Ducati, with some 80% of buyers new to the Ducati fold, most coming from Japanese 600s. And along with Monster 696 riders, the 848 shares the distinction of having the youngest buyers among the Ducatisti.
With middleweight sportbikes from Asia pushing the $11,000 mark, it doesn't seem like that much of a stretch to pony up another grand or so to park a Dark Stealth (matte black) 848 EVO at its $12,995 MSRP. That's less than asked for the 749 back in 2003! The white or red EVO's list for $1000 extra.
So, can a $13,000 Italian sportbike be a value proposition? We think so.