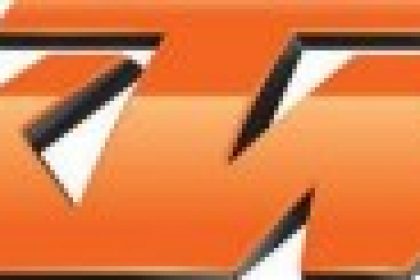 KTM 1190 RC8 R Track 2013
This very exclusive pistarde is renewed for 2013, with only one requirement: Ready to race! It is the slogan of KTM 1190 RC8 R TRACK.
This definition of KTM 1190 RC8 R TRACK could not one cannot better be appropriate for this variation tracks sporting RC8. The KTM 1190 RC8 R TRACK RC8 R track is a pure tool of the track, and intended for anything else. You do not even need to remove road upperworks… There does not have. This motorcycle was designed for the circuit only, and can be committed such as it is in a championship FIM Superstock; it is approved for.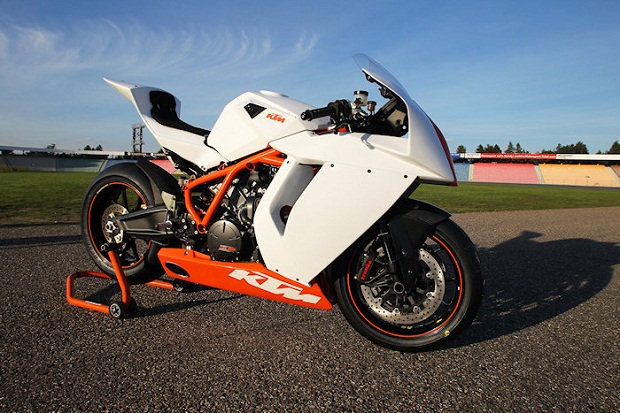 KTM 1190 RC8 R TRACK is not encumbered headlights, tires with sculptures or momentary footrest. With the equipment that there is above, you can flap a stopwatch directly after having bought it. To draw best from its large twin of 180 ch (that is to say a large handle moreover than the RC8 R), the KTM 1190 RC8 R Track has a suspension racing of White Power, forged Marchesini rims.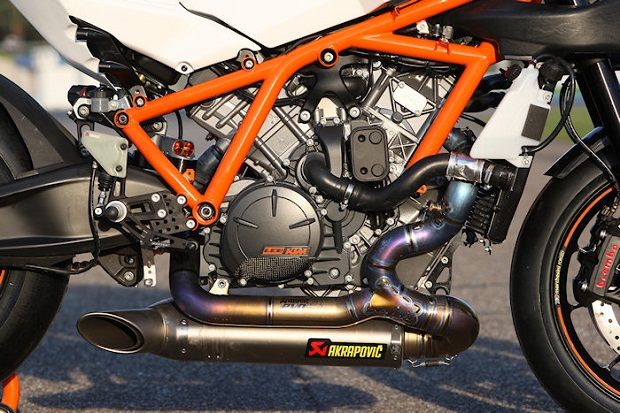 Radial clamps of KTM 1190 RC8 R TRACK brake cast solid Brembo, tires slicks, of a Akrapovic exhaust, a batch of parts racing coming from the department competition KTM PowerParts (including one shifter, a special cylinder head gasket, a new electrical loom, etc), of a weight brought back to 173 kilos (9 less), and of a careenage white-orange loan to be run – you do not have any more but to put your sponsors and a number of race above.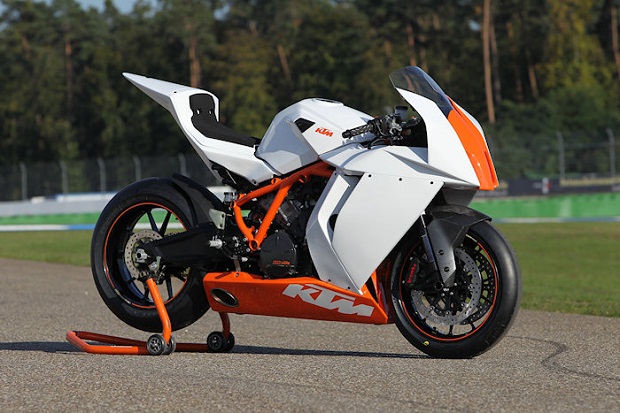 KTM 1190 RC8 R TRACK: –
Performance of 180 horses
– Weight of 173 kg
– Exhaust Akrapovic EVO
– Finer cylinder head gasket to increase compression
– Cartography racing
– Air filter racing
– Suspension Racing WP
– Shifter
– electrical loom racing
– careenage tracks
– KTM PowerParts footrest
– Folding KTM PowerParts lever
– Saddle racing
– Brake pads racing
– Transmission chain racing with aluminum pinion
– KTM PowerParts lid of tank racing
– KTM PowerParts tail skid
– KTM PowerParts side protection and cover
– Tires slicks
– Painting white enamelled with site plates orange numbers.
Frame:
Tally: tubular lattice Chrome-molybdenum, painting to époxyRéservoir: 16.5 litresHautor of saddle: 805/825 mmLonguor: 2100 mmHautor: 1100 mmEmpattement: 1425 dry mmPoids: 173 kg
Transmission:
Limp with 6 reports + shifterfinal by chain, order by direct-drive dog clutches
Transmission:
Limp with 6 reports + shifterfinal by chain, order by direct-drive dog clutches
Rear wheel-axle unit:
Monoamortissor racing WP, deb.: 120 mmSimple disc Ø 220 mm, clamp with 2 pistons
Wheel AR: 190/55 – 17"
Engine:
Twin-cylinder out of V, 4 tempsRefroidissement: Cooling liquideInjection Ø 52 mm2 ACT4 valves by cylindre1195 DC (105 X 69 mm) 180 ch with 10250 tr/min12.3 mkg with 8000 tr/min