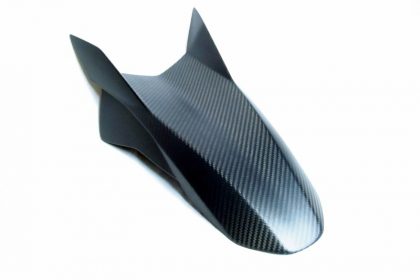 Aprilia Dorsoduro Carbon Fibre Performance Parts, satin/matte finish. Same weave as OEM Aprilia/Akrapovic carbon fibre. Manufactured using pre-preg carbon fibre & steel molds then cured in a high temperature autoclave oven creating a much thinner, lighter product without compromising on strength.
Autoclave production produces the best finish on the weave, keeping the carbon fibre in a more level and constant pattern, preventing kinks and stretching. Finally laser cut using a high pressure water jet to produce a clean edge & polished by hand.
Using 2 mm, 3K twill weave carbon fibre with an epoxy resin providing both excellent strength and flexibility, UV treated lacquer which will help to keep your Aprilia carbon looking new for years.
Features:
– High quality clear finish will add a custom, race look to your bike
– Made by using high quality epoxy resin and high quality carbon fibre
– Auto clave produced
– UV resistant varnish
– Same OEM carbon fibre weave
– Make your bike stand out from the crowd