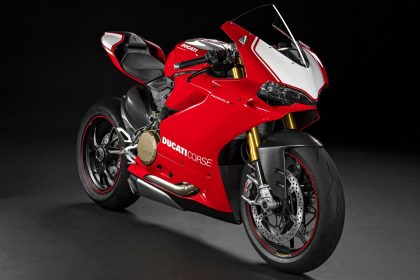 2015 New Ducati Panigale 1299, Ducati's flagship Panigale superbike has been given a technical and technological makeover aimed at keeping the road bike ahead of a very strong field of rivals in 2015, and the racing machine up the front of the Superstock grid.
As MCN revealed weeks ago there are now two different engines in the 1299 range; one for the standard 1299 and S models that have the 1285cc variant, and another for the R model which keeps to 1198cc to comply with Superstock and Superbike racing regulations, and benefits from a host of upgrade parts first seen on the high-spec 1199 Superleggera model launched last year.
All of the 1299 models get a redesigned tailpiece and an all-new exhaust system that's lighter than the outgoing model's. At the heart of the standard and S models is the new 1285cc version of the Superquadro V-twin that was first seen in the 1199 Panigale launched in 2011. Power is now a claimed 205bhp and the torque a monstrous 106.6lbft at 8750rpm – all wrapped up in a package that weights a mere 166.5kg.
Like the Multistrada 1200, the new 1299 has the Inertial Measurement Unit (IMU) which works to control and process all of the other electronic systems including cornering ABS, anti-wheelie, a new quickshifter that works for both up and down changes, semi-active suspension, engine braking control and traction control, along with the riding modes. The quickshifter also features a bar-mounted two-button controller on the left handlebar which allows the rider to effect up and down gearshifts without using the gear lever or clutch.
Creating balance
The new 1285cc engine produces 10% more torque and 10bhp more power thanks to the 87cc extra capacity, with the pistons now a vast 116mm in diameter, while the compression ratio has increased to 12.6:1. Those pistons, rings and pins have been redesigned and the whole engine (still with a 90-degree Vee angle, and still a structural part of the bike) has been rolled back in relation to the horizontal measurement to improve the weight distribution between front and rear.
In addition, the steering head angle has been altered by 0.5degrees to 24 degrees from 24.5degrees and the trail has been reduced from 100mm to 96mm. The swingarm lower pivot point is also now 4mm lower.
UK on the road prices:
Panigale 1299 £16,995
Panigale 1299 S £20,795
Panigale R £28,995
source: http://www.motorcyclenews.com/mcn/news/newsresults/new-bikes/2014/october/MILAN-SHOW-205bhp-Ducati-1299-Panigale-unveiled