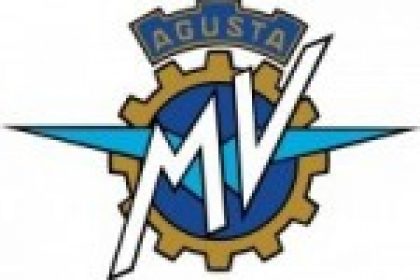 MV Agusta F3 800 Review
Inspired by MV Agusta's legendary 500cc and 350cc grand prix racing bikes that Giacomo Agostini rode to 14 of his 15 world titles, the new F3 800 Triple is the brainchild of the late Claudio Castiglioni and former designer Massimo Tamburini. Their goal with the F3 and Brutale families was to develop a platform that expanded market share and shared major components, thus reducing production costs and increasing profitability.
Powering the 800 is a compact three-cylinder engine with a cylinder head that's identical to the 675's. The crankshaft, however, has been stroked from 45.9 to 54.3mm, which, together with the unchanged 79.0mm bore, results in a displacement of 798cc. To make this possible with a common cylinder head and crankcase, the connecting rods had to be shortened from 109.3 to 105.1mm. The compression ratio in the already compact combustion chamber has increased from 13.0:1 to 13.3:1.
Both engines share the same camshafts and trio of 50mm, dual-injector throttle bodies, but the 800's upper injectors flow 15 percent more fuel, helping the larger motor produce a claimed 148 horsepower at 13,000 rpm and 65 foot-pounds of peak torque at 10,600 rpm. A six-speed, cassette-type gearbox and a slipper clutch transmit power to the rear wheel.
Managing power is MV's MVICS throttle-by-wire electronics suite, which is integrated into the F3 800's EM2.0 ECU. Included are four maps (Sport, Rain, Normal and Custom), and eight-level traction control. What's more, the bike has a wealth of other adjustability, with settings that allow the rider to set tip-in throttle response, max torque (Sport or Rain), engine braking (Sport or Normal), engine response (Fast or Slow), engine torque (Sport or Rain) and rpm limit (Sport or Normal). The F800 also offers wheelie control and an optional quickshifter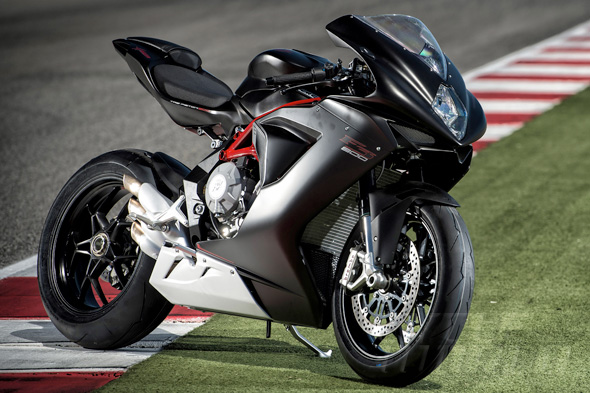 Metallic Matt Black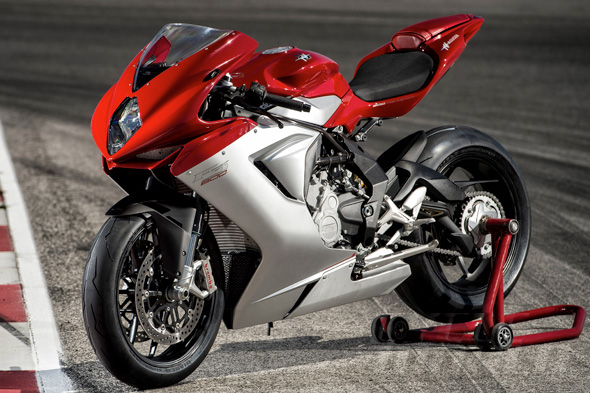 Red-Silver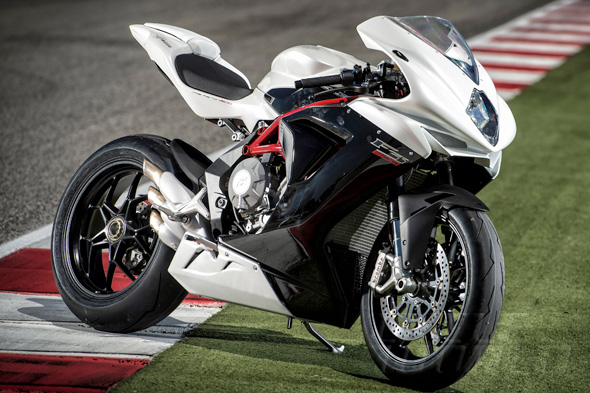 Pearl White/Black
Key to the F3 800's performance is the fact that it shares a chassis with the 675, much like Suzuki's GSX-R600 and GSX-R750 have a common platform. As such, the F800, with a claimed dry weight of 381 pounds and a 20-hp bump in peak in power (compared to the 675), has a pretty sweet power-to-weight ratio.
Chassis highlights include a 43mm inverted Marzocchi fork and a Sachs shock, both of which are fully adjustable. Radial-mount, four-piston monobloc Brembo front calipers with 320mm discs and a twin-piston/220mm disc setup out back handle braking duties.
Riding the F3 800 at Italy's Misano World Circuit, I was impressed by the MV's precise steering and stable chassis through the track's esses, which get progressively tighter before feeding into the Turn 14 hairpin. Exiting Misano's multiple hairpins, the 800 felt like it was shot out of a slingshot. Despite a relatively short front straight, the F3's LCD dash would register an indicated 130 mph prior to braking for Turn 1. The Brembo brakes performed excellently, while the chassis itself remained composed under hard braking
Complaints are few, but I have to mention a lack of fuel-mapping refinement at small throttle openings, especially when feeding in mixture mid-corner. Additionally, a touch more engine vibration is noticeable than with the 675, due to what I feel is the 800's higher revs and a secondary imbalance attributed to the different crank and rods.
Despite this, the new 2014 MV Agusta F3 800 is one of the most potent machines available in the middleweight sportbike class. With a little refinement, it could be a real contender.
Do you own an F3? check out our fantastic carbon & performance parts.