Description
MotoCorse MV Agusta F4 Brutale Ohlins TTX36 Rear Shock 99-09
This is how your beautiful MV Agusta F4/Brutale should have come from the factory!
This is a very innovative product because it can be fitted with the head up and not upside down as it was for the previous TTX Ohlins shock MV78.
This is a very high-quality item that works brilliantly on the road and track.
Adjustable for any condition as with all TTX models, highly adjustable for road or track use and can be set up either by rider or as we recommend by an Ohlins specialist.
We can set these shocks up before dispatch so please make a note at the checkout with rider weight and Road or Track use setup required.
OHLINS FULL WEIGHT 2.2 kg.
Characteristics:
– Hydraulic integrated spring preload
– Double hydraulic circuit, Comes without external hydraulic preload adjuster
– Lighter and smaller
– External registers with a high possibility of setting
– Completely separate functions for compression and rebound
– Adjusters are close to each other for easy access.
Fits MV Agusta F4/Brutale Gen1 models:
MV Agusta Brutale 750 2003+ (all variations)
MV Agusta Brutale 910 2005+ (all variations)
MV Agusta Brutale 989R 2008+ (all variations)
MV Agusta Brutale 1078RR 2008+ (all variations)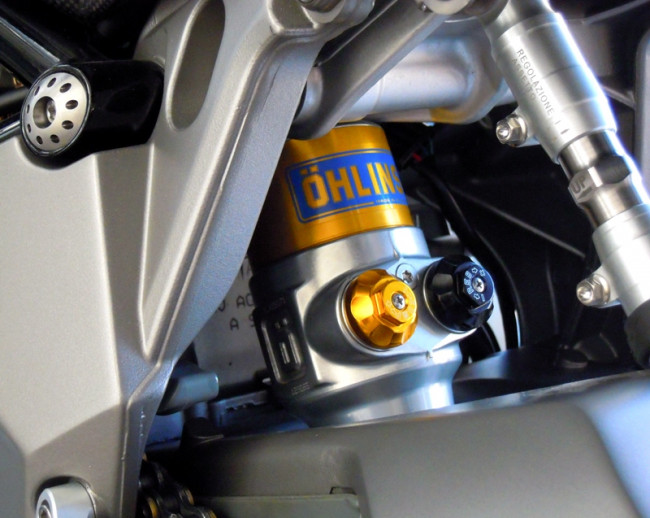 MotoCorse excellence
The distinctive features of MotoCorse are design, quality, performance and exclusivity. The company was born as MotoCorse Japan and Motocorse San Marino in the early 2000s with the idea of bringing innovation into the motorcycle world. MotoCorse is a company that designs, develops and manufactures its own accessories. MotoCorse uses the best specialists in the field for the production of its components. The passion of this company is reflected in the satisfaction of all its customers and in the desire of those who still are not, wants to bring jewellery for the two wheels