Description
MotoCorse MV Agusta Brutale 750/910/989R/1078RR Steering Damper
How your beautiful MV Agusta Brutale 4 cylinder should have come from the factory!
Protect yourself from unwanted tank slappers with this Scotts/MotoCorse steering damper kit.
Ever had that heart-stopping moment when the bars oscillate nervously or even flap uncontrollably out of your hands? If you have, you'll know it's no fun… if you haven't… you should act now before it happens…
What you have experienced – or probably will experience sooner or later – is the problem known as a tank slapper, which, if it becomes violent enough (as it easily can), often leads to an accident.
Tank slappers happen when a bike's front wheel leaves the road surface momentarily (or for longer if the bike is wheeling) and move from the straight-ahead position whilst airborne (this almost always happens if the rider touches the front brake which stops it rotating and thus loses its gyroscopic resistance to turning).
Manufactured from the highest-grade billet aluminium and 100% CNC machined.
Fits MV Agusta Brutale models:
MV Agusta Brutale 750/910/989R/1078RR 2003-2009 (all variations)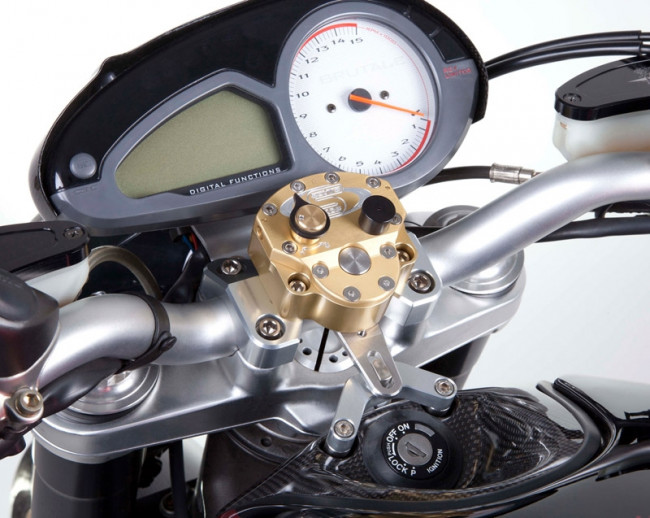 MotoCorse excellence
The distinctive features of MotoCorse are design, quality, performance and exclusivity. The company was born as MotoCorse Japan and Motocorse San Marino in the early 2000s with the idea of bringing innovation into the motorcycle world. MotoCorse is a company that designs, develops and manufactures its own accessories. MotoCorse uses the best specialists in the field for the production of its components. The passion of this company is reflected in the satisfaction of all its customers and in the desire of those who still are not, wants to bring jewellery for the two wheels