Description
MATERYA KTM Super Duke 1290R Carbon Fibre Dashboard Cover Screen 2020+
The Best Seller of MATERYA products, unique design, provides a more aesthetic appearance to your KTM Super Duke 1290R whilst protecting your expensive dash from debris and insects.
The USB functions remain unchanged.
Material Carbon Fibre – Twill Matte (same as OEM KTM Power Parts)
Project Idea
The instrument/speedo on the new model of KTM Superduke 1290R is much wider and more articulated than the previous version, also it has a USB socket on the left side facing the gear. The goal is as always to integrate this element as much as possible with the rest of the bike.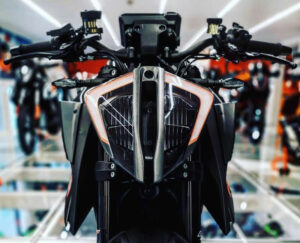 Sketch Idea
The center of the cover, like any work done on a KTM, has a central cut that's designed to flow with the style of the front headlight assembly, a small spoiler has also been added to slightly raise the air flow that hits the rider.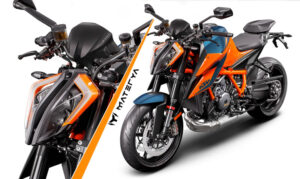 3D Modelling
The geometry is symmetrical in style, but has an asymmetry in the lower area, in fact on the left side of the driver's side it has a profile that adapts to the USB socket, thus preserving its use. A cut was also applied to the spoiler, creating a dialogue with the front slot leaving a slight perception of continuity of the lines.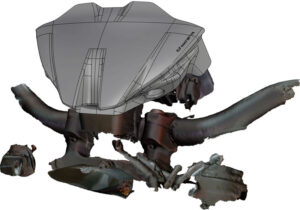 The idea is to create a brand that will answer specific requests with very big attention to detail and refinement, with MATERYA you will find a specific product for each motorcycle designed with also new technology such as 3d printing process to create great-looking products for your motorcycle.