Description
MATERYA KTM Duke 790 890R Racing Headlight Cover Protector
 MATERYA products, unique design, provides a more aesthetic appearance to your KTM Duke 790 890R (all model years) whilst on the track.
Totally replaces your expensive headlight to prevent any damage on the track, and swaps out in minutes, perfect for road & track riders!
It is used on the original headlight support (Not included).
Material Nylon PA12 Black
ONLY FOR TRACK USE
Sketch Idea
The project stems from the need to create a replacement element for the expensive lighting device supplied, which in the event of a fall could be damaged. In this case, the OEM headlight frame was used, emptied of its heavier and more expensive component. The Product is made with a sophisticated 3D printing technology called HP Multi-jet Fusion, which allows you to have a resistant and light product, with fairly short production times.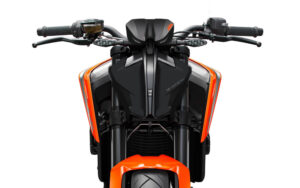 3D Modelling
The Track Days Plate is composed of 2 shells that follow the design of the original headlight assembly, with the addition of a rib that gives even more character to the bike. The pieces can then be customised as desired with pilot numbers and / or graphics.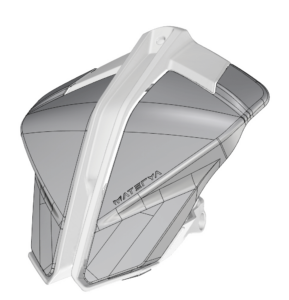 The idea is to create a brand that will answer specific requests with very big attention to detail and refinement, with MATERYA you will find a specific product for each motorcycle designed with also new technology such as 3d printing process to create great-looking products for your motorcycle.