Description
Evotech Performance Ducati Multistrada 950 Front Fork Spindle Bobbins 2017+
Evotech Performance have developed an innovative spindle bobbin system which allows the bobbin head to rotate on impact.
This is down to the aluminium spacer system that provides a solid core for the location of the nylon bobbin head.
Using this system we have increased the overall durability and impact resistance of our spindle bobbin kits.
Evotech Performance front spindle bobbins are retained by roll threaded stainless steel spindles for increased strength.
Evotech Performance Ducati Multistrada 950 Front Fork Spindle Bobbins 2017+ kits comprise of two nylon bobbins, two anodised aluminium spacers, S/S spindle, nuts, washers and a hollow spindle nut when required.
Made in England from high performance engineering materials in order to protect your expensive fork bottoms and brake calipers in the event of a spill.
Technical Specifications:
Fits: Ducati Multistrada 950 2017+/1200 2010-14/1200 2015-17/1200 Enduro Pro 2017-18/1200 Enduro 2016-18/1200 S Pikes Peak 2012-14/1200 S Touring 2010-14/1200 Pikes Peak 2016-17/1200 D Air 2015-17/1200 S & S D Air 2015-17/1200 S Granturismo 2013-14/1260 Enduro Pro 2019+/1260 Pikes Peak 2018+/1260 2018+/1260 S 2018+/1260 D Air 2018+/Ducati Monster 821 2013-17 and 2018+/Ducati Monster 821 Dark 2016, Stripe 2016-17 and Stealth 2019+/Ducati Monster 797 2017+/ Ducati Hypermotard 939 and 939 SP 2016-18/Hypermotard 950 2019+/ Hypermotard 939 2016-18
Material : Aluminium Spacers
Finish : Andonised Silver Spacers
Fitting Difficulty (1 Low – 5 High) : 1
Fitting Time : 10 Minutes
Evotech Performance Ducati Multistrada 950 Front Fork Spindle Bobbins 2017+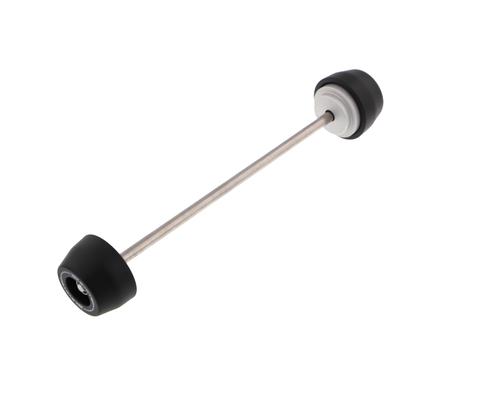 Bespoke Evotech Performance Ducati Multistrada Parts
Evotech Performance has embraced the racing philosophy of the Ducati Multistrada. Evotech Performance innovative design team has produced a range of aftermarket products that consist of a tail tidy, radiator guard, spindle bobbins, bar end weights and paddock stand bobbins and lots more.