Description
Ducabike Ducati Quick Release Fuel Cap
Ducabike's quick-release fuel cap is a remarkable product that comes with a unique carbon fibre key.
It is meticulously crafted from solid billet CNC aluminium, ensuring its durability and reliability. Additionally, it is available in a wide range of stunning colours, each of which is finished with a hard anodized coating.
This fuel cap is a perfect combination of style and functionality, making it an excellent choice for motorcycle enthusiasts who value both aesthetics and performance.
Fits Ducati Models:
748/916/996/998
848/1098/1198
Monster 659
Monster 695
Monster 797
Monster 821/SP
Monster 937/SP
Monster 1200/S/R
SuperSport 939/950/S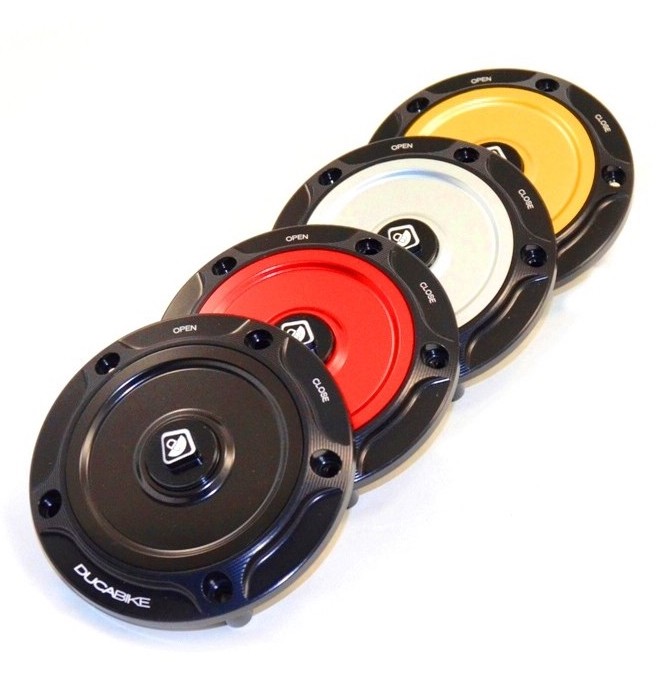 DUCABIKE represents a deep devotion to motorcycles, with a particular emphasis on Ducati® models. These bikes are considered valuable and unique, as the owner can customize them to their personal preferences and needs.
DUCABIKE was founded with the goal of producing top-of-the-line products to help personalize your Ducati® motorcycle.
DUCABIKE is a company that designs, develops, manufactures, and markets its products. With years of experience in both on-road and racing, they strive to provide maximum reliability and guarantee on their products. Their focus is on finding the best designs and performance, utilizing the support of highly trained technicians and skilled test pilots. They use top-quality materials and innovative technology to stay ahead of the game in the motorbike world.