Wednesday, 23 January 2019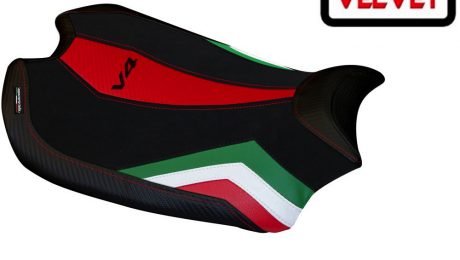 Ducati Panigale V4 Seat Covers Tappezzeria Italia
Made in Italy, Tappezzeria Italia has over 40 years experience in producing high-quality seat covers for your Ducati Panigale V4 to give it that extra special factory look.
Available in high-quality velvet material or the UltraGrip performance range.
All our Ducati Panigale V4 Seat Covers Tappezzeria Italia are made to captivate the aesthetics of your bike and increase the visual impact, because of this our products are now appreciated all over the world which show the maximum expression of the made in Italy saddlery.

Ducati Panigale V4 Seat Covers Tappezzeria Italia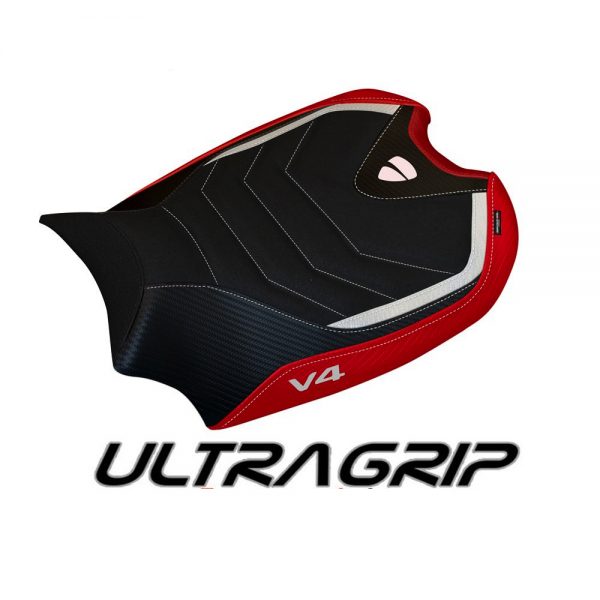 **Waterproof** and resistant to atmospheric agents.
Reinforced double pointed seams,
High resistance to chemical agents.
Supplied with detailed instructions manual for assembly.
*We do advise to have them fitted by a professional*
**All Tappezzeria Italia Ducati Panigale V4 Seat Cover Wels 2 are made of 100% waterproof materials, while the seams are taped from the inside to help prevent water infiltration and ensuring a water resistance of 80%. However, they may occur infiltration if the saddle is exposed to rain for a long period or when high-pressure washing.
These possible events, although rare, is not due to a defect in the product**

Wednesday, 23 January 2019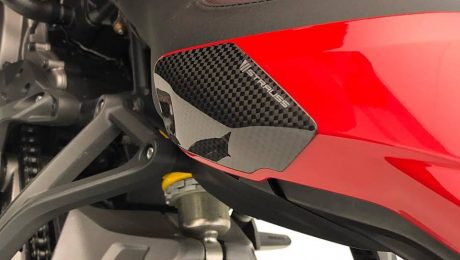 Strauss Carbon Fibre Motorcycle Tank Tail Protectors Sliders
Protect your expensive fairings with Strauss Carbon's high-quality carbon fibre tail fairing sliders.
Each protector is made out of super-light and super-strong carbon and DuPont™ Kevlar® combination which is proven to be the most effective crash protection.  Sliders are finished in a high gloss UV protected lacquer offering excellent UV resistance.
Offering excellent crash protection and wear resistance. Each piece has been meticulously designed to protect the most pronounced edges of motorcycle and protect what could be an expensive repair bill.
Strauss Carbon Fibre Motorcycle Tank Tail Protectors Sliders Aprilia BMW Ducati Honda Kawasaki Suzuki Triumph Yamaha are produced with smooth lacquered edges to help prevent any marks to your precious paintwork which many other brands overlook.
The application takes only minutes and they could save you having to replace your fairings which can get dented or scratched in the event of a crash. These crucial protection pieces are highly recommended for the track and are also great for protecting your investment on the street. For the installation, we advise using neutral silicone gel ( not acetic ).
The set includes 2 sliders for fuel tank (left and right side).
Click on the link to visit our shop

Product description:
Made in EU (European Union)
Handmade using super-light and super-strong carbon and DuPont™ Kevlar®
Easy and quick mounting
High-gloss finish
Sold as a pair (L/R)
Strauss Carbon Fibre Motorcycle Tank Tail Protectors Sliders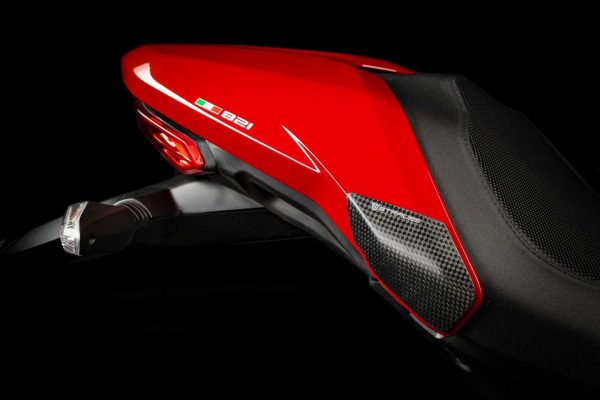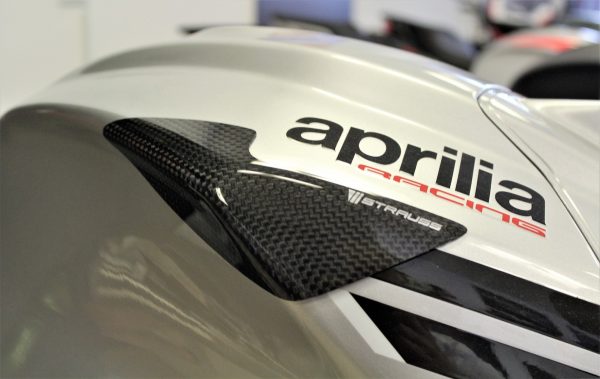 About Strauss Carbon
The Strauss company is based in Slovenia and is specialised in producing high-quality carbon fibre parts for motorcycles. We have more than 20 years of experience in this exciting industry.
All parts are produced in-house using our own molds.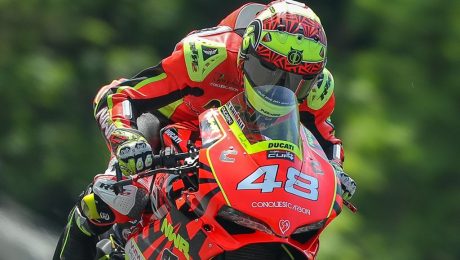 Conquest Racing – Motorcycle Performance Parts
WELCOME TO CONQUEST RACING LTD

Conquest Racing Ltd – (AKA Conquest Carbon) – was founded back in 2012
Our business has flourished ever since so inevitably a website to sell the inventory was essential. We realised that carbon fibre was a very popular product so we set out to find the best manufacturers to supply our customers.
We have always strived to seek out and acquire the very best motorcycle performance parts that manufacturers in the motorcycle industry can provide, as we see it as our personal mission to be leaders in this vastly competitive marketplace.
Never willing to sit still and relax on our laurels, we have moved on to supplying other high-performance motorcycle parts including CNC parts, race screens, crash protection & performance air filters up to and including performance exhausts for road and race use.
To reflect this expansion of our company's direction and the huge array of performance parts available for your motorcycles we have decided to change our name to what is now known as CONQUEST RACING LTD.
Wishing you all happy and safe riding.
From us all at Conquest Racing Ltd.
To view, our great products click on the link "SHOP" below
Conquest Racing – Motorcycle Performance Parts