Description
Termignoni Ducati Diavel 1260 / S Full Race Exhaust System 2021+
Release the power, potential and sound of your Ducati Diavel 1260/S 2021+ Euro5 with the Termignoni complete exhaust system.
Developed in collaboration with Termignoni, to enhance the already high torque and power features of the Diavel 1260/s.
Made of steel, synonymous with robustness, with end caps in aluminium alloy machined from billet and the classic "salami slice" cut, it enhances the look of the muscle-cruiser par excellence.
Installing the complete exhaust system improves both torque and power over the entire range of engine rpm in order to further improve the performance of the bike.
The Diavel's look is transformed with the installation of the exhaust system thanks to the outlets on both sides.
**Sold as "Race use only" exhaust is NOT homologated for road use! supply of the exhaust ONLY no upmap included**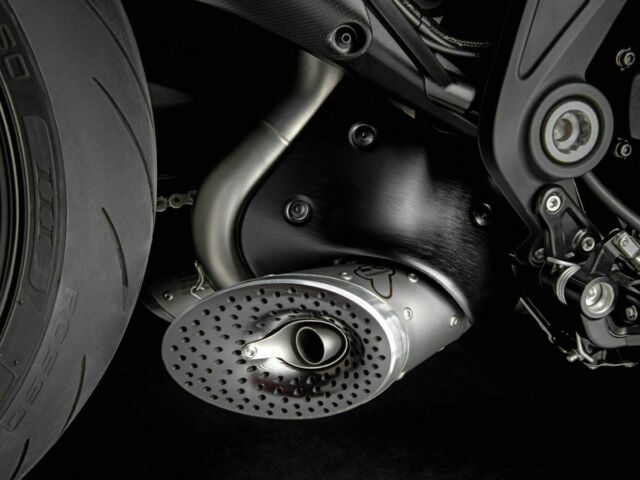 Quality and performance since 1969
Founded in 1969 by Mr Luigi Termignoni, TERMIGNONI S.p.A. is a Company that designs and creates motorbike exhaust systems for race and road use at the highest levels. The experience gained in these years on the race tracks has been transferred also to the aftermarket products giving a high-level performance. The company's object is to develop exhaust systems that offer always an increase in performances in terms of power and/or weight. The R&D department that creates the racing exhaust systems for MotoGP, Moto2 and SBK, is the same department that creates for the aftermarket.
Racing Department
The TERMIGNONI heart beating, high professional employees with maniacal attention for also the smallest details, use the most exclusive materials and the latest technological variety. These are the basic elements to realize the exhaust systems dedicated for racing, true artworks created for only one purpose: the victory.