Description
Sprint Filter Kawasaki Z900RS P08F1-85 Air Filter 2018+
Sprint Filter has more than 60 years of research, development, and experience at the highest levels of competition. 
P08F1-85 is the ultimate performance air filter available from Sprint Filter, developed over many years and currently in use by Factory MotoGP and SBK Racing Teams.
Independent testing carried out by University of Wales Trinity St David, Sprint Filter's P08 polyester tissue, the "standard" tissue found in Sprint Filter replacement air filters, provided the best airflow of any leading brand filter, including leading brand "race" filters. By comparison, Sprint Filter P08F1-85 provides almost three times the airflow of P08 with virtually the same filtration performance, which makes P08F1-85 suitable even for moderate road use as well as race.
Sprint Filter P08F1-85 air filter uses a special polyester material with a wire diameter of only 22 microns. This air filter was designed for road racing applications and uses patented technology to make it waterproof, the only filter in the world of its kind. Its unique weave pattern can filter debris as small as 85 microns while having the highest permeability for any air filter on the market. The increased airflow of the P08F1-85 air filter will help maximize your bike power potential while offering excellent filtration protection. All these features make P08F1-85 an air filter particularly suitable for racing, but with the unique Sprint Filter technology, it can also be used on current production road vehicles without needing carburation adjustment by remapping the ECU or additional control units.
Replaces OEM part no. 11013-0768  
Model capability: Kawasaki Z900RS 2018+  
FABRICS OF FILTERS
Current production vehicles are typically equipped with paper filters, while performance vehicles used oil-soaked cotton or sponge. An air filter job is to guarantee good airflow while preventing significant particles from ending up in the engine. These two operations naturally oppose each other and that is where Sprint Filters' polyester filtering fabric takes a leap above the rest. Polyester fabric is extremely permeable, stable, and is not affected by folding during construction. Cotton or sponge air filters, on the other hand, have a weaving that depends on the overlapping of numerous layers, leading to poor flow in some areas and ineffective filtration in others.
The construction precision of the Sprint Filter polyester air filters offers equal filtration that remains constant over time. By contrast, a cotton air filter has extremely variable openings, from just a few microns to several tenths.

————————————————————————————————————————————–
Which Sprint Filter?
As Sprint Filter continues to develop outstanding variations of their filters it may be a little confusing as to which filter would be best for your machine. We have devised a list below which will make it easier for you to choose the correct Sprint Filter for your requirements.
**P08 PERFECT FOR ROAD & RACING**
**P08F1-85 PERFECT FOR PROFESSIONAL ROAD AND RACE USE, TUNED ECU**
**P037-WP PERFECT ENDURO RIDING OFF-ROAD & ROAD / RACE USE IN DIFFICULT WEATHER CONDITIONS**
————————————————————————————————————————————–
AIRFLOW
The uniform and compact polyester filtering element consist of a thin filament of fabric, forming a mesh of several dozen microns, capable of trapping all significant particles and ensuring a very high airflow rate. Our polyester air filter guarantees a very high airflow that neither cotton filters nor OEM paper filters can achieve. Remember this simple equation: More Air = More Power!

EFFICIENCY & FILTRATION
The Sprint Filter polyester air filters retain 93.13% of 100 μ particles (Sprint Filter P08 air filter) – 91.8% of 37 μ particles (Sprint Filter P037 air filter) – 95.22% of 100 μ particles (Sprint Filter P08F1-85 air filter) versus the 76.42% of 4-layer oil-soaked cotton
Because of its uniform structure, the Sprint Filter air filter ensures less airflow disturbance, also thanks to the exclusive and patented filtering material in single-layer polyester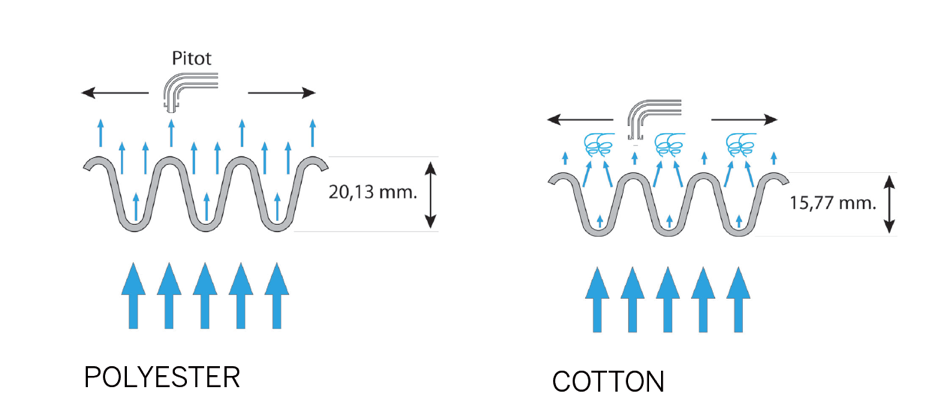 Improved Fuel Economy
P08's precision-manufactured, ultra-fine polyester filter element provides airflow that is more consistent than typical after-market cotton and foam filters. Airflow consistency helps the bike's ECU maintain the optimum air/fuel mix, resulting in improved fuel economy.
Virtually maintenance-free
To clean your Sprint Filter P08, simply remove the filter from the airbox, blow it clean with compressed air, and re-insert it. No messy washing, after-market cleaners or oil treatments required, saving you valuable time and money!
Long lifecycle
Being man-made, the P08's polyester material will, if properly looked after, display no discernible deterioration or loss of structure or performance over the lifetime of your bike.
Build Quality
With 60 years of experience in producing air filters, and success at the highest levels of competition (including MotoGP, Moto3, World SBK & BSB), you can be confident in the quality of materials and manufacture of your Sprint Filter P08 air filter.