Description
Sprint Filter Aprilia P08F1-85 Air Filter
About Sprint Filter Aprilia P08F1-85 Air Filter: Developed and used by the leading Factory Teams in MotoGP and WSBK, P08F1-85 is the latest technological advancement from Sprint Filter with the highest existing permeability of any air filter on the market (allowing an impressive airflow of >15,000 l/m2/sec.), guaranteeing a filtering power of 85 μm that makes it even more exclusive. All these features make P08F1-85 an air filter particularly suitable for racing, but with the special Sprint Filter technology, it can also be used on the most sophisticated latest generation of 600cc and 1000cc Supersports bikes that, in most cases, do not need fuel adjustment with a special mapping of the ECU or additional control units. However, their use taps 100% of the potentials of this technological jewel.  
Sprint Filter P08F1-85 – The High-Performance Polyester Air Filter: Replaces OEM part no. AP8104329  
Model capability:
Aprilia RSV 1000 R 2005 – 2009
Aprilia RSV 1000 R Factory  2005 – 2009
Aprilia RSV4 R / APRC (OEM: AP8104329) 2011 – 2012
Aprilia RSV4 R / APRC ABS (OEM: AP8104329) 2013 – 2014
Aprilia Tuono R 2006 – 2009
Aprilia Tuono R Factory 2006 – 2009
Aprilia Tuono V4 R APRC 2011 – 2012
Aprilia Tuono V4 1100 Factory 2015+
Aprilia Tuono V4 1100 RR 2015+
Aprilia RXV 450 2006 – 2014
Aprilia SXV 450 2006 – 2015
Aprilia RXV 550 2006 – 2014
Aprilia SXV 550 2006 – 2015
Race Proven Performance: Sprint Filter has been a part of World Championships in MotoGP, Moto3, Superbike, Supersport, and Superstock. Sprint Filter is the first choice of championship contenders. Research and development are constantly carried out at the highest levels of racing in search of maximum filtration without compromising power.  
FOR PROFESSIONAL ROAD & RACE USE
Single-layer waterproof polyester
Currently used in MotoGP and WSBK
Highest existing permeability of any air filter on the market
Innovative polyester material allows for consistent airflow
Steel wire mesh with an epoxy varnish finish
Patented PTFE (Teflon™) treatment creates a waterproof barrier
Optimised filter surface area provides more airflow, more power, and more filtration
Increased air permeability and filtration efficiency when compared to cotton air filters
Airflow: 15,000 l/m2/sec. / Filtration: 85μm
Can be cleaned using only compressed air
Dry filter, no oil treatments required
Direct OEM replacement
1 year warranty
————————————————————————————————————————————–
As Sprint Filter continues to develop outstanding variations of their filters it may be a little confusing as to which filter would be best for your machine. We have devised a list below which will make it easier for you to choose the correct Sprint Filter for your requirements.
Which Sprint Filter?
**P08 PERFECT FOR ROAD & RACING**
**P08F1-85 PERFECT FOR PROFESSIONAL ROAD AND RACE USE, TUNED ECU**
**P037-WP PERFECT FOR ROAD AND RACE USE IN DIFFICULT WEATHER CONDITIONS**
————————————————————————————————————————————–
Polyester – A Winning Technology: On the one hand, air filters have to guarantee good airflow. On the other, they have to filter large particles so they don't end up in the cylinders. The two operations are opposed to each other, and the best air filter is the one that optimizes these two functions. Production motorbikes are normally fitted with paper filters, while the usual solution for sports filters was oil-soaked cotton. With its adoption of the polyester membrane filter, Sprint Filter has taken a huge leap forward, making all previous systems obsolete.
Structure: Polyester fabric is extremely permeable and solid and cannot be affected by folding during construction, by the difference in pressure during operation or by maintenance. On the other hand, the cotton filter has a weft that depends on the overlapping and number of layers used. Moreover, it tends to lose its shape during these phases and, as a result, some zones will benefit from a high filtration value while others will filter poorly.
Main Features:
Constant filtration and airflow value over time.
In terms of efficiency, the P08 polyester filter retains 93.13% of 100 μ. particles as compared to the 76.42% that cotton retains.
Construction of the support in just one material, to prevent unwanted separation of different materials.
Steel Mesh: Another step forward has been taken for the P08 and P16 air filters, which once again distance themselves from the competition owing to the use of innovative technologies. After using the polyester filtering element, Sprint Filter is the first company in the world in this market to use steel mesh with epoxy varnish to support the membrane filter. The advantages? The strength of the wire allows a wider mesh to be woven, with the free surface increasing from 66% to 80%, which means the filter can be made with superior structural characteristics.
Using steel instead of a light alloy does not increase the weight. Not only is the mesh wider, but the diameter of the wire used is smaller than that of the past, and this more than compensates for the greater specific weight. Finally, even the look of the filters has now improved: less polyurethane seepage is noticed on the filtering map (orange for P08s, white for P16s and P037s, black for P08F1-85s) so it is better defined.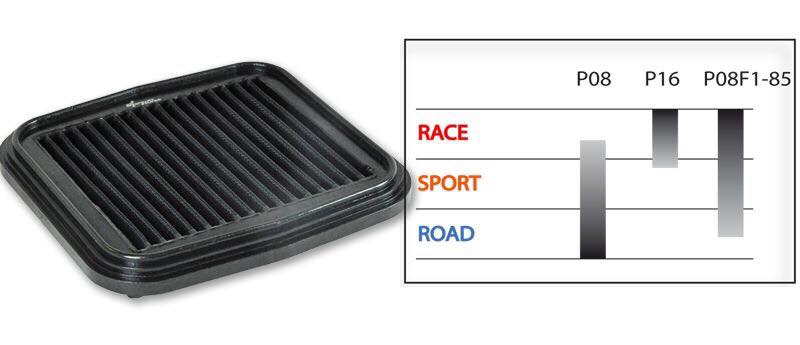 "Waterproof" Tissues: Sprint Filter air filters are the only filters in the world with "waterproof" characteristics (Sprint Filter patent, meaning SF is the only air filter manufacturer in the world that produces waterproof air filters for internal combustion engines), making the product even more exclusive and suitable even for use in more demanding conditions.
Air Flow: The polyester air filter guarantees a very high airflow that neither cotton filters (whose permeability depends on the number of layers used) nor OE paper filters can achieve. Remember the simple equation: More Air = More Power!
Filtration: The construction precision of the polyester filter offers a filtration degree equal to that declared and is constant over time. The cotton filter, instead, has extremely variable openings, from just a few microns to several tenths. This means that, initially, the cotton filter has a low filtering power (equal to 50% of a contaminant with a range of between 5 and 200 μ). Only after a dust cake forms on the surface does the filtering power increases up to 80% of the above-mentioned range, but there is a resultant drastic pressure drop. In short, a cotton filter has low filtering power for half of its lifetime, while for its remaining lifetime it has a very high-pressure drop.
Efficiency: Many dyno tests have confirmed the importance of a flow with a minimum degree of impedance. A 4-cylinder 1000cc bike (fitted with a P08 filter) without any remapping of the control unit, supplied more torque and 2.5 HP more at half the power curve, in that area that can guarantee a "fuller" response to the throttle.
In its engineering course, Trinity Saint David Swansea University tested the most popular motorcycle air filters on the market, checking the performance of each filter with a SuperFlow flow bench. The test was set up in a simple but effective way: different brands of filters were fitted on a square section pipe, through which a set quantity of air was pushed.
The curve distribution is evident: the polyester Sprint Filter filter definitely breaks away from the "group" of cotton filters (among which the Sprint Filter waterproof polyester filter ranks very well), and sponge filters are positioned at the bottom of the chart. The structure of the filtering elements was then checked under the microscope, and in this case, as well as the uniformity and compactness of the polyester were obvious.
Improved Fuel Economy
P08's precision-manufactured, ultra-fine polyester filter element provides airflow that is more consistent than typical after-market cotton and foam filters. Airflow consistency helps the bike's ECU maintain the optimum air/fuel mix, resulting in improved fuel economy.
Virtually maintenance-free
Maintenance of the air filter is important for the protection, care, and efficiency of the engine. A clean and undamaged filter will always ensure the correct quantity of clean air for the airbox.
Another air filter maintenance aspect not to disregard is how long it lasts. Apart from the time required for disassembly and reassembly, cotton filters demand downtime for washing, drying and oiling the filtering element, all operations not necessary with a polyester filter. The Sprint Filter air filter cleaning procedure is, in fact, extremely easy and quick: just use an air jet in the opposite direction of the suction to remove most of the debris collected. No washing or drying is necessary, so it can be refitted straight away.
For exceptionally dirty filters begin with compressed air, then using a common household detergent, allow the filter to soak for 15-30 minutes and gently agitate the filter in the solution. Rinse the filter with clean water until the water runs clear. Allow to air dry thoroughly and then reinstall. Reminder, Do Not Oil.
Long lifecycle
If cared for properly, the Sprint Filter will last for the entire time you own your bike.
Build Quality
With 60 years of experience in producing air filters, and success at the highest levels of competition (including MotoGP, Moto3, World SBK & BSB), you can be confident in the quality of materials and manufacture of your Sprint Filter P08 air filter.