Description
MotoCorse Ducati Ohlins GP Gas Fork Caliper Mounts 100mm
This is how your beautiful Ducati should have come from the factory!
Swap the boring cheap cast caliper mounts for these MotoCorse's jewel-like billet CNC replacements that look drop-dead gorgeous.
Manufactured from the highest-grade billet aluminium and 100% CNC machined.
MotoCorse "GP" front radial forks 100mm (100mm centre distance) caliper mounts are composed of a set of specially machined from solid aluminium, front fender supports and 4 caliper spacers (Brembo calipers and caliper screws are not included)
It is Plug & Play, i.e. perfectly interchangeable with the original calliper mounts, this means that for assembly it is not necessary to modify or replace any other component of the motorbike(Front wheel, discs, etc…)
The "GP" radial connection kit offers the possibility of being mounted on Ducati motorcycle models fitted with "NON-pressurised" (standard OEM Ohlins forks) in this case, the fork remains non-pressurised, but the aesthetics of the motorbike will be improved.
Fork caliper mounts, mudguard support brackets, air tanks and calipers spacers are made of aluminium alloy, constructed through the use of CNC machines and treated on the surface through anodizing.
Fork caliper mounts with mudguard support brackets and caliper spacers are available in four different colours: Silver, Titanium, Black and Red.
Air tanks are available in three different colours: Gold, Black and Red.
The air tank caps are made of solid Titanium.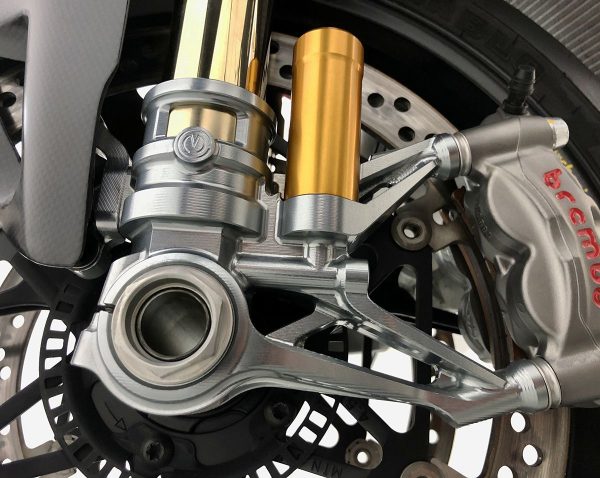 MotoCorse excellence
The distinctive features of MotoCorse are design, quality, performance and exclusivity. The company was born as MotoCorse Japan and Motocorse San Marino in the early 2000s with the idea of bringing innovation into the motorcycle world. MotoCorse is a company that designs, develops and manufactures its own accessories. MotoCorse uses the best specialists in the field for the production of its components. The passion of this company is reflected in the satisfaction of all its customers and in the desire of those who still are not, wants to bring jewellery for the two wheels