Description
Motocorse Ducati 899 Panigale Titanium Exhaust Link Pipe D75 Termignoni
Designed to fit with Termignoni slip-on silencers (Not included)
Motocorse exhaust link pipe kit for the Ducati 899 Panigale series is entirely made of titanium starting from 1 mm sheets. This system of link pipe allows a weight saving of about 35% (1,16 Kg) compared to the original system and due to its thin construction, it also helps to dissipate the huge amount of heat from the OEM exhaust.
Welding and cutting are made with the most advanced systems, in particular, these link pipes are distinguished by the realization of their curves called "Lobster tail" consisting of several sheets welded together perfectly to create curves with a racing effect.
The link pipe has an increased diameter dimension to 75 mm and designed specifically for the Ducati 899 Panigale fitted with Termignoni D75 slip-on exhausts.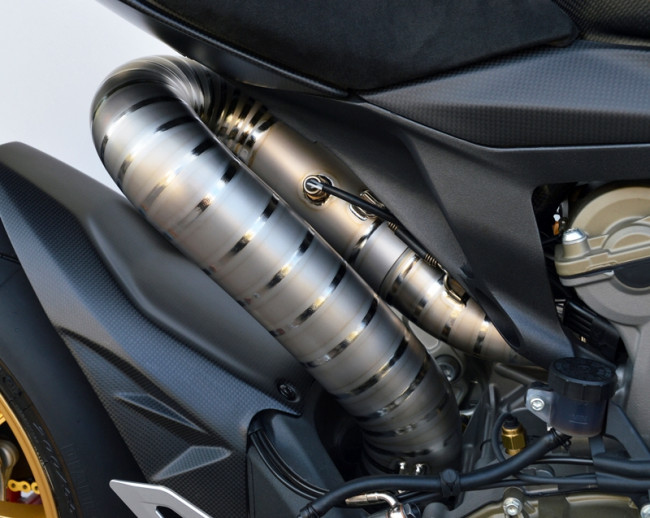 Motocorse excellence
The distinctive features of MotoCorse are design, quality, performance and exclusivity. The company was born as MotoCorse Japan and Motocorse San Marino in the early 2000s with the idea of bringing innovation into the motorcycle world. MotoCorse is a company that designs, develops and manufactures its own accessories. MotoCorse uses the best specialists in the field for the production of its components. The passion of this company is reflected in the satisfaction of all its customers and in the desire of those who still are not, wants to bring jewellery for the two wheels