Description
Melotti Racing MV Agusta F4 Number Plate Holder Tail Tidy 1999-2009
This beautifully designed Melotti Racing MV Agusta F4 Number Plate Holder Tail Tidy 1999-2009 is perfectly interchangeable with the original number plate holder.
Made from the finest aerospace aluminium, composed by an arm and a plate, both entirely CNC machined.
 NUMBERPLATE LED LIGHTS & INDICATORS NOT INCLUDED
Fits models: MV Agusta F4 1999-2009 UK/USA version, image may be slightly different to item received.
  Available in:
Matte black or Gold
Melotti Racing's number plate holder is designed to be totally adjustable, offering an ample angular excursion. Supplied with the numberplate holder kit includes: indicator supports in satin-finished inox steel, fixing screws. 
A discreet guide designed on the arm to allow the electrical cables thus maintaining an elevated structural rigidity without compromising on design. Melotti Racing's attention to detail & state-of-the-art finishing provides owners of such a beautiful machine a product to complement it's design & thought process.
As Melotti Racing is so confident in their high quality and finishing they offer a lifetime warranty (for the original purchaser) for all their products.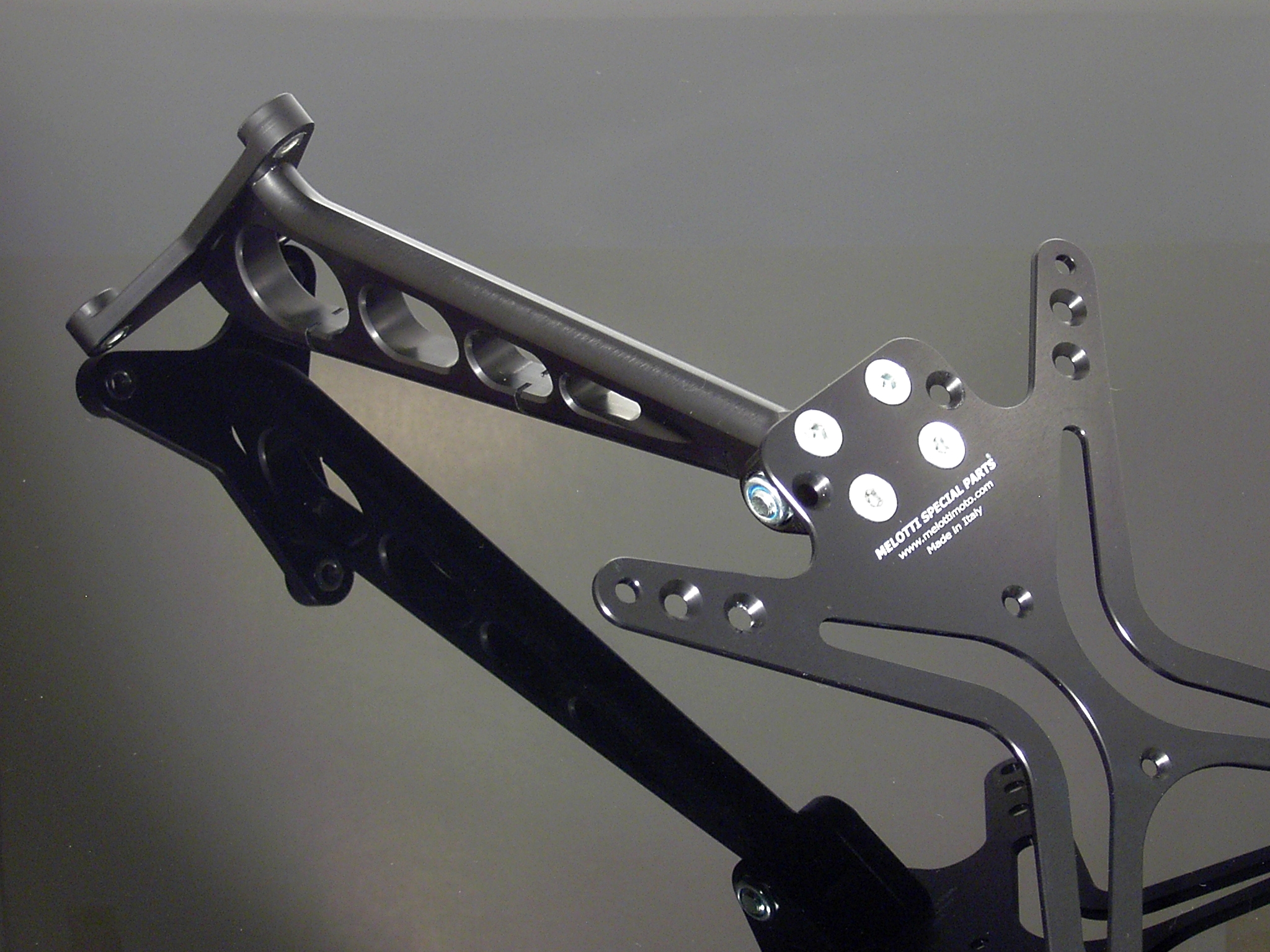 About Melotti Racing
"We have always had a passion for motorbikes, but since Melotti operates in the industrial automation sector, we began to produce our first motorbike components specifically to aid a friend involved in motorbike racing. Our true launching pad was the production of a license plate holder made from solid light alloy, which turned out to be a winning idea, proving an unexpected success as soon as it appeared on the market. Featuring a novel design, an innovative structure departing from the more traditional canons, and advanced technical solutions, it truly revolutionised the concept of the plate holder, which until then had been made solely from sheet metal. The expansion of our product range is ongoing, driven by the requests of a demanding customer base that continues to demonstrate the greatest faith in our brand. This is why we give priority not to the quantity, but to the quality, of every single product that bears the Melotti Racing name. When Diego joined the company Melotti Racing decided to get back to its origins with the research and development of technical components to be used on the track and geared to the bikers whether it be for the road use or for sports racing"