Description
MATERYA Ducati Streetfighter V4 Carbon Fibre Dashboard Cover Screen
Unique Italian design, provides a more aesthetic appearance to your Ducati Streetfighter V4 (all variations), a dashboard cover that will integrate perfectly into the design of your Ducati Streetfighter V4.
Material: Real plain weave satin carbon fibre, same as OEM.
Project Idea
Design a screen which not only functions but also looks purposely made to complement the aggressive lines on your Ducati Streetfighter V4. The goal is as always to integrate this element as much as possible with the rest of the bike.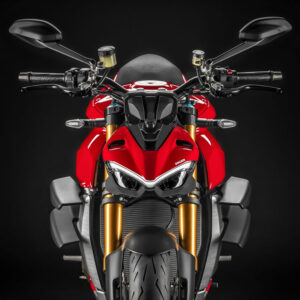 Sketch Idea
The Ducati lines are very sinuous and muscular, and the intent was precisely to examine them and bring them back to a new element. A very complex process, but necessary because everything merges without creating unevenness.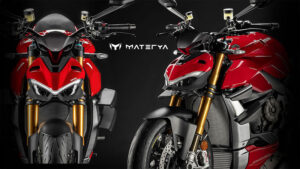 3D Modelling
The distinctive elements of this project, as you can see, reside in the two side air intakes, which in the plan follow the outline of the DRL. Here too we find an extension of a deflector, useful for raising the flow of air on the rider and further covering the display from the reflections of the sun. Fixing takes place by means of the threads supplied on the Ducati dashboard support.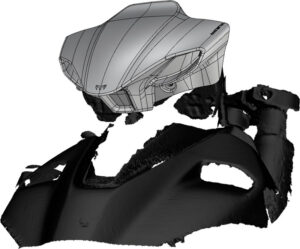 The idea is to create a brand that will answer specific requests with very big attention to detail and refinement, with MATERYA you will find a specific product for each motorcycle designed with also new technology such us 3d printing process to create great-looking products for your motorcycle.