Description
Evotech Performance Ducati Front Fork Spindle Bobbins
Evotech Performance has developed an innovative spindle bobbin system which allows the bobbin head to rotate on impact.
This is down to the aluminium spacer system that provides a solid core for the location of the nylon bobbin head.
Using this system we have increased the overall durability and impact resistance of our spindle bobbin kits.
Evotech Performance front spindle bobbins are retained by roll threaded stainless steel spindles for increased strength.
Evotech Performance spindle bobbin kits comprise of two nylon bobbins, two anodised aluminium spacers, S/S spindle, nuts, washers, and a hollow spindle nut when required.
Made in England from high-performance engineering materials in order to protect your expensive fork bottoms and brake calipers in the event of a spill.
Technical Specifications:
Material: Aluminium Spacers
Finish: Anodised Silver Spacers
Fitting Difficulty (1 Low – 5 High) : 1
Fitting Time: 10 Minutes
Evotech Performance Ducati Front Fork Spindle Bobbins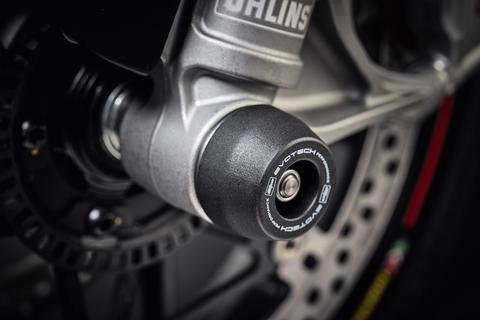 Evotech Performance has a wide range of Ducati aftermarket parts available for all Ducati riders. Our Ducati tail tidies are individually designed for each model, producing a unique concept every time. Our innovative design concept continues through the radiator guards. Evotech Ducati radiator guards are secured in position using original mounting points, no cable ties in sight. We have also developed Ducati exhaust hangers to allow the removal of the pillion footpegs. By removing the pillion pegs you can fully appreciate the racing lines of the Ducati.
Evotech Performance understands the need to protect yourself and your bike. That is why our crash protection has been designed to withstand the high impacts of motorcycle crashes. Our current Ducati crash protection range consists of frame bobbins, front spindle bobbins, rear spindle bobbins, and bar end weights. Our Evotech Performance Ducati brake and clutch levers have a 6 positioning adjuster, making those little tweaks has never been easier. The quality levers are Machined from billet aluminium and finished in an anodized black coating for protection and longevity.