Description
Ducabike Ducati Panigale V2 MotoGP Style Top Steering Yoke
Designed to replace your road OEM top yoke for your Ducati Panigale V2 and give it that MotoGP look.
Thanks to the designer's accurate style research, 100% racing-inspired, Ducabike Ducati Panigale V2 MotoGP style top steering yoke is made of billet aluminium & totally CNC machined.
A top fork yoke which combines performance and lightness. The openings have a particular utility, which goes beyond aesthetics and weight reduction: in fact, they're designed to make the component more flexible and more sensitive to lateral loads. So we achieved good elasticity, that allows having a better response of the front wheel and better feedback for the rider. Aesthetically, it'll radically change your bike' s look, like a true MotoGP bike.
All of Ducabike's products are developed. designed and created "in-house", at their technical facility in Bologna, Italy.
  Fits models: Ducati Panigale V2 2020+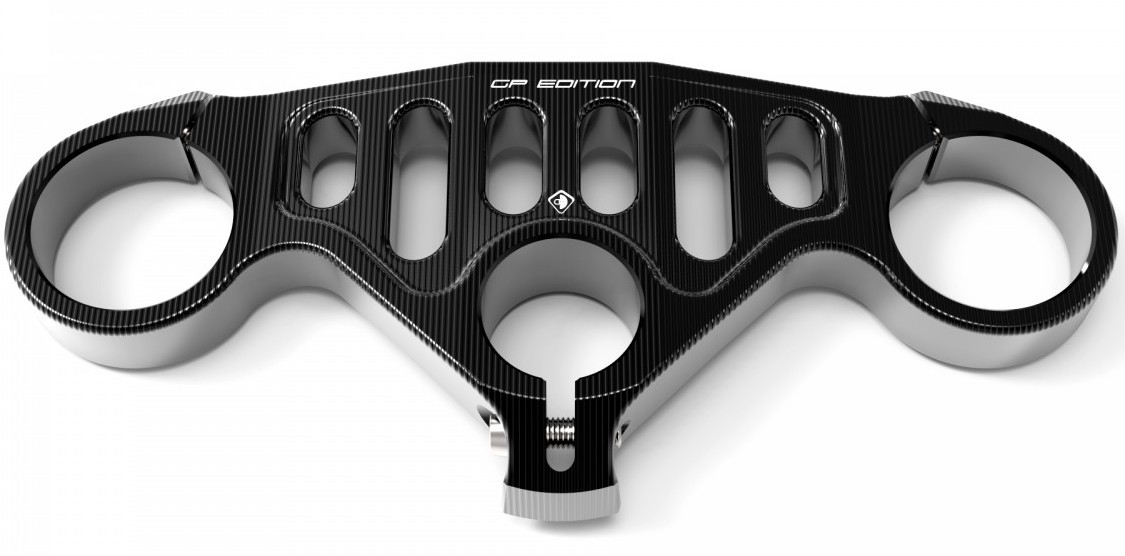 DUCABIKE is a synonym of passion for motorbike and in a special way for Ducati® bikes. Bikes can be rich and precious designed by the owner based on own taste and requirements.
DUCABIKE born with this target, created the best in the market products to make your Ducati® your own.
DUCABIKE designs, develops, manufactures and markets its products, based on experience in all the years on-road and in racing to do every effort to give the maximum reliable and guarantee on products, find the design and the best performance, utilise support of our prepared technicians and the best test pilot, employing the best materials and the innovative technology in the motorbike world.