Description
Ducabike Ducati Hypermotard 950 / SP Black Ohlins Steering Damper Kit
Protect yourself from unwanted tank slappers with this Ducabike Ducati Hypermotard 950 / SP Black Ohlins steering damper kit.
How does it work? A steering damper works in a way that's similar to your bike's front forks. Internal circuitry and hydraulic valving adjust the amount of shock transferred through the bars to your arms. There is an attachment point to the frame and this sometimes violent motion is transferred to the damper, allowing you to maintain control of the motorcycle and even helping to reduce rider fatigue. So much like your front forks were designed to handle vertical impacts, a steering stabiliser is designed to reduce lateral movement. Hydraulic fluid passes between controlled chambers to dampen the forces of impact. Units are often called steering dampers as well as stabilisers.
Improved safety
Reduced rider fatigue
Improved handling
What you'll receive in the kit:
1, Black mounting bracket kit with all bolts included.
2, Steering damper collar (select your colour choice above)
3, Genuine Black Ohlins steering damper
Our damper brackets are available in black ONLY. The collars are available in Black, Blue, Gold, Red, Silver.
Please note in the comments section at checkout what colour collar you would like.
Fits: Ducati Hypermotard 950 – SP

**Picture below is for illustration only, the colour of the Ohlins damper is black**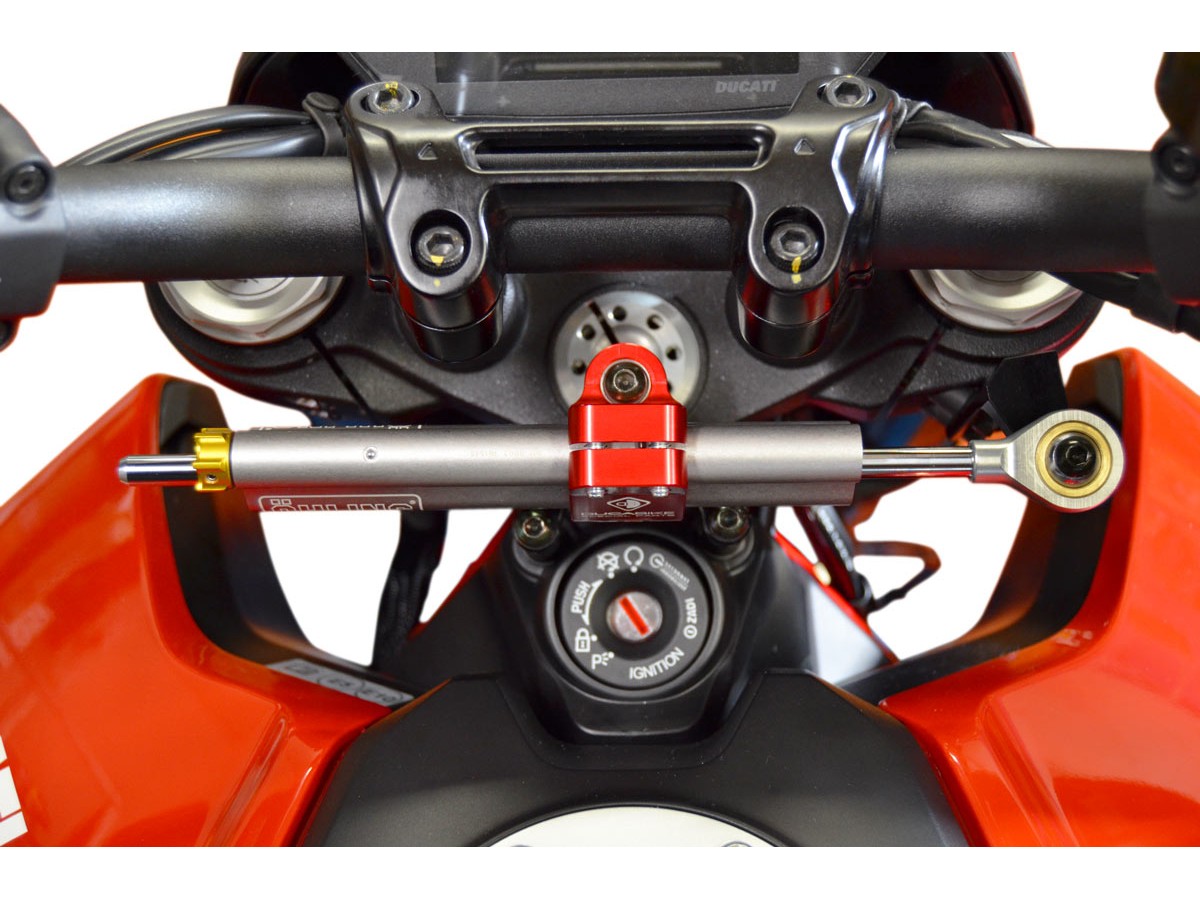 DUCABIKE is a synonym of passion for motorbike and in a special way for Ducati® bikes. Bikes can be rich and precious designed by the owner based on their own taste and requirements.
DUCABIKE born with this target, created the best in the market products to make your Ducati® your own.
DUCABIKE designs develop, manufactures and markets its products, based on experience in all the years on-road and in racing to do every effort to give the maximum reliability and guarantee on products, find the design and the best performance, utilise the support of our prepared technicians and the best test pilot, employing the best materials and the innovative technology in the motorbike world.