Description
Ducabike Ducati Engine Oil Plug Cap
Upgrade the aesthetic appeal of your Ducati with the addition of this impressively crafted billet CNC engine oil plug.
These plugs are crafted using top-tier CNC 7075 grade aluminium, ensuring premium quality and durability. Moreover, they flaunt a striking hard anodized finish, along with a unique bare aluminium chamfered edge, adding a touch of elegance to your Ducati's appearance.
Fits Ducati models:
SBK Ducati 848-848 EVO
Ducati DesertX
Ducati Diavel
Ducati Diavel 1260
Ducati Diavel V4
Ducati XDiavel/S
Ducati Hypermotard 796-821/SP-1100-939/SP-950/SP/RVE
Ducati Monster 696-796-1100/EVO
Ducati Monster 937
Ducati Monster 821-1200/S/R
Ducati Multistrada 1200 2010-14
Ducati Multistrada 950/1200/1260
Ducati Multistrada V2
Ducati Multistrada V4/S/PP (All variations)
Ducati 899-959-1199-1299 Panigale
Ducati Panigale V2
Ducati Panigale V4 (All variations)
Ducati Scrambler (All variations)
Ducati Streetfighter 848
Ducati Streetfighter V2
Ducati Streetfighter V4 (All variations)
Ducati Supersport 939/950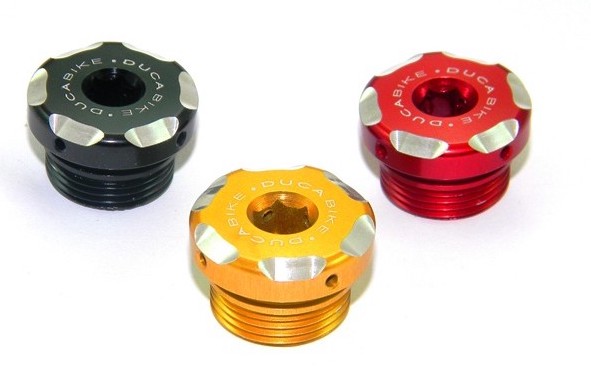 DUCABIKE is a synonym for passion for motorbikes and in a special way for Ducati® bikes. Bikes can be rich and precious and designed by the owner based on their own taste and requirements.
DUCABIKE born with this target, created the best in the market products to make your Ducati® your own.
DUCABIKE designs, develops, manufactures and markets its products, based on experience in all the years on-road and in racing to do every effort to give the maximum reliability and guarantee on products, find the design and the best performance, utilise the support of our prepared technicians and the best test pilot, employing the best materials and the innovative technology in the motorbike world.