Description
Ducabike Ducati Diavel V4 Rear Sprocket Flange Carrier
If you're a Ducati Diavel V4 owner, you might want to consider upgrading your sprocket carrier to the billet replacement from Ducabike. This Italian company is known for producing high-quality CNC products that are designed specifically for Ducati motorcycles. The billet replacement is a beautifully crafted piece that will not only enhance the look of your bike but also improve its performance.
The sprocket carrier is an important component of your motorcycle's drivetrain system. It holds the sprocket in place and transfers power from the engine to the rear wheel. The Ducabike billet replacement is made from high-grade aluminium alloy, which makes it stronger and more durable than the stock cast alloy carrier.
In addition to being more robust, the billet replacement is also more aesthetically pleasing. Its sleek and stylish design is sure to turn heads and make your bike stand out from the crowd. If you want to take the customization of your Ducati to the next level, you can purchase anodized sprocket nuts separately from Ducabike.
Overall, upgrading your Ducati Diavel V4's sprocket carrier with the billet replacement from Ducabike is a smart investment. It will not only improve the performance of your bike but also enhance its appearance. Say goodbye to your boring cast alloy sprocket carrier and hello to this sleek and stylish upgrade.
Fits: Diavel V4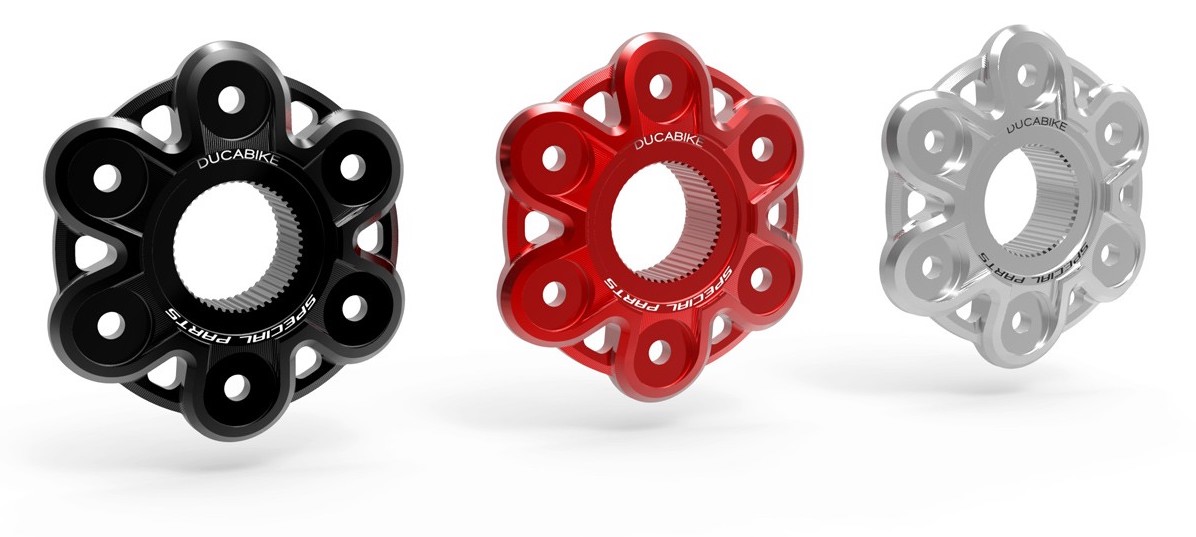 DUCABIKE is a synonym for passion for motorbikes and in a special way for Ducati® bikes. Bikes can be rich and precious and designed by the owner based on their own taste and requirements.
DUCABIKE born with this target, created the best in the market products to make your Ducati® your own.
DUCABIKE designs, develops, manufactures and markets its products, based on experience in all the years on-road and in racing to do every effort to give the maximum reliability and guarantee on products, find the design and the best performance, utilise support of our prepared technicians and the best test pilot, employing the best materials and the innovative technology in the motorbike world.