Description
CeraCarbon Sprocket Ducati 1199 1299 Panigale V2 V4 Streetfighter V4
The ultimate in performance and technology
CeraCarbon is a new patented material in which the advantages of carbon-fibre (light and strong) is combined with ceramics for wear resistance. By applying this technology, CeraCarbon has developed motorcycle sprockets.
Our sprockets are significantly lighter than the current steel or aluminium sprockets and have a lifespan comparable to steel sprockets and significantly longer (3x) than aluminium sprockets.
The CeraCarbon sprockets are developed, designed and produced in house at our company in the Netherlands EU.
The sprocket that you see in the image below is the sprocket that fits on all the Ducati 1199 1299 V2 Panigale V4 and Streetfighter V4 models with the single-sided swingarm & is made with the same 200-gram plain weave carbon fibre as Ducati OEM carbon.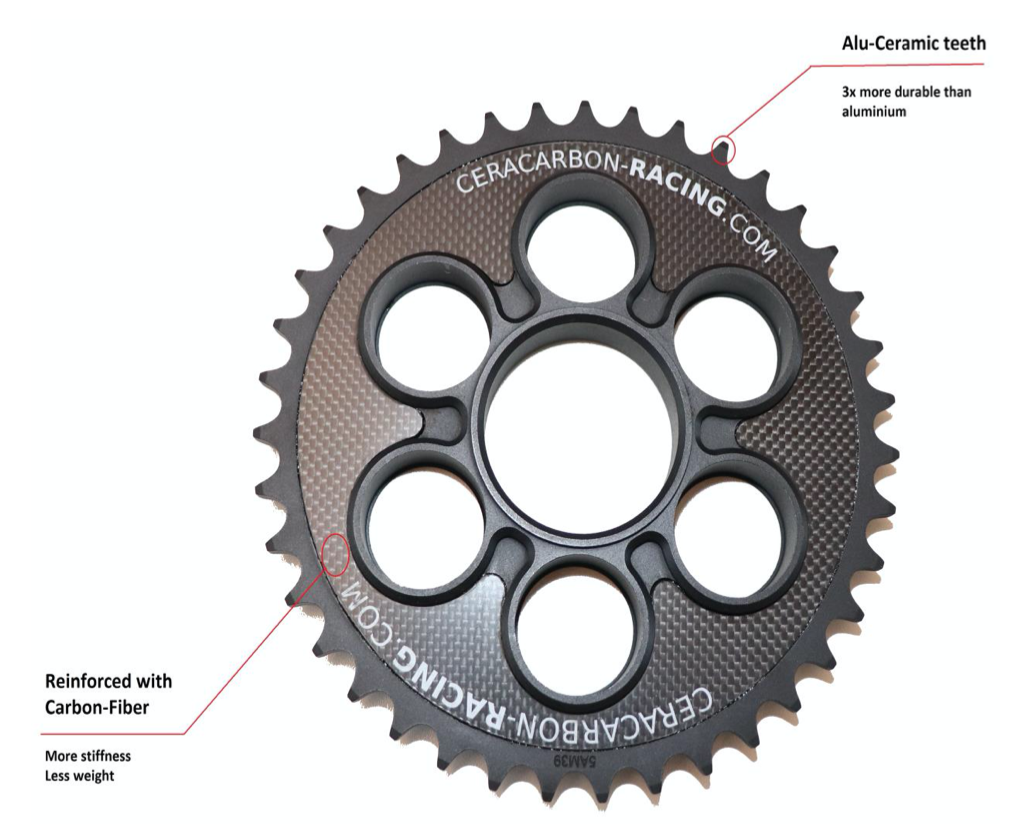 LIGHTWEIGHT DURABLE SPROCKETS
CeraDure the choice of champions! CeraDure developed and produces top-level alu-ceramic rear sprockets, very lightweight combined with great durability. Owned and operated by motorcycle racers, we constantly focus on high-level quality. CeraDure sprockets are CNC machined to the tightest tolerances from 7075-T6 aluminium and finished with our own patented ceramic layer that ensures our unique very high wear resistance. The sprockets are finished with a black self-lubricating PTFE (Teflon) coating.
CERADURE CERAMIC ALUMINIUM SPROCKETS
Unlike other manufacturers, we don't anodize the sprockets but use our own patented Ceramics to combine the strength and wear resistance of ceramics with the extreme lightweight of aluminium.
● Improves performance by reducing the drive system's rotating mass
● Lightweight 7075 T6 aerospace aluminium
● Ceramic coating Teflon impregnated for extreme hardness and durability
● Precision CNC machined individually with tightest tolerances
● Optimized tooth design for perfected chain hold and release
● Tested in World SBK and Paris Dakar
● In full use at World Superbike, BSB and Paris Dakar!
SPONSORED RIDERS / TEAMS SPROCKETS