Description
Bodis Exhaust MV Agusta F4/R/RR Titanium Racing Headers Manifold 2004-2009
Introducing the Titanium race exhaust header manifold for your beautiful MV Agusta F4.
Release the true noise of the Ferrari F40 (owned by Claudio Castiglioni) this incredible machine was designed to mimic.
** Race use, NOT road legal**
Weight comparison:
Original Headers – 2.9 Kg
BODIS Headers – 1.9 Kg
Fits following MV Agusta F4 models:
MV Agusta F4 1000 S 2004+
MV Agusta F41000R 2006+
Only fits the later models using the Bodis De-Cat link pipe:
MV Agusta F4312R 2007+ (only with Bodis De-Cat link pipe)
MV Agusta F4312RR 2009+ (only with Bodis De-Cat link pipe)
*Please allow minimum 14 days UK delivery*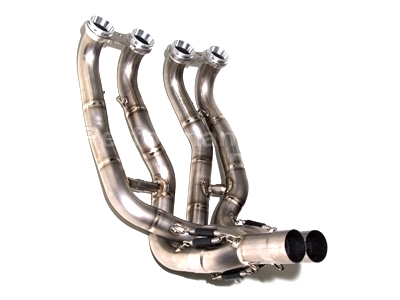 30 years of experience in processing stainless steel and titanium. Development and construction of groundbreaking exhaust systems for motorcycle racing. Plus an up-to-date range of aesthetic exhaust systems offering increased efficiency and optimized sound. That's BODIS.
Development and manufacturing take place in Hungary, while Speer Racing Parts, based in Germany, is responsible for worldwide homologation and distribution.
Together we are an unbeatable team.
Motorcycles are our passion.