Description
Puig Pro Universal Paddock Stand Swingarm Spools Bobbins M8
CNC machined paddock stand swing arm bobbins M8, designed for the ease of using the V-hooked paddock stands to easily lift your bike for maintenance. CNC machined and hard anodised in 6 different lustful colours to choose from. Includes a black nylon washer to help protect your swingarm from scratches.
(PLEASE NOTE: RETURNS ARE NOT ACCEPTED IF THE WRONG SIZE IS PURCHASED)
Puig Pro Universal Paddock Stand Swingarm Spools Bobbins M8
Fits models: Universal product, fits all dual sided swingarms with M8 thread.
CNC machined
Works with V-Hooked Paddock Stands
Sporty look
Easy Mounting
We strongly advise using Loctite when installing these.
Puig Pro Universal Paddock Stand Swingarm Spools Bobbins M8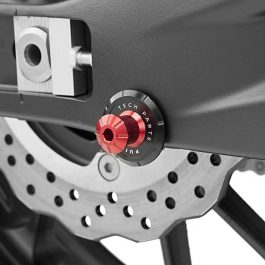 PUIG designs, manufacture and distributes its own products since 1964. The experience throughout these years is directly applied to each and every single product designed; for this reason, PUIG has been able to acquire the trust of many professional riders and motorcyclists that have used and are using our products.
Our commitment to plan, carry out, and distribute quality products, which are able to improve the OEM equipment of the motorcycle and motorcyclist on technology and safety performances, is achieved thanks to the synergy of the PUIG team whose values are always related to the best product development.
The technology is, in this industry, a must, and from the very beginning, PUIG has entrusted its future to it. On top of a continued improvement on the quality product through technology integration, PUIG nowadays has a specialised department of design and development of new products, creating, adapting, and testing all new products that year by year are being included in our catalog.