Description
Puig Honda CB1000R NEO Sports Cafe Retro Screen Fairing 2018+
Retro motorcycles are in clear boom these days and Puig recognises it. Therefore, it has designed a new retro semi-fairing to protect you from the wind and in turn, enhance the vintage image of your Honda CB1000R Neo Sports Cafe.
Manufactured in ABS, material highly resistant to possible impacts, it will perfectly fulfil the function of protecting us from wind gusts and possible inclement weather, making our riding experience in full comfort and enhancing the retro aesthetic line of the machine.
The piece is composed of an opaque body, with a matt black finish and a clear, dark, black or transparent smoked screen.
Fits models:  Honda CB1000R NEO Sports Cafe 2018+
Technical Specifications 
Excellent wind protection
Sporty retro look
Very easy to mount, no modifications necessary
Fitting kit included
Approved by the German TÜV
PLEASE NOTE: THE LINES ON THE SCREEN IN THE IMAGE IS THE REFLECTION OF LIGHT!
Puig Honda CB1000R NEO Sports Cafe Retro Screen Fairing 2018+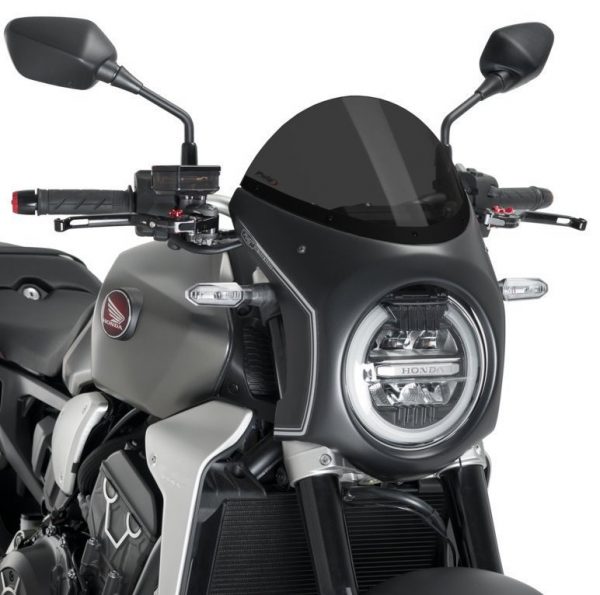 About Puig
PUIG design, produce and distribute its own products since 1964. The experience gathered during these years is applied directly to each designed product, and for this reason, we have achieved the trust and loyalty of many professional pilots and street riders that have used and keep using our products. We hope you can keep trusting our company on your next accessories purchases. Our main objective is, as always, work in order to improve and ease the motorcyclist's life.